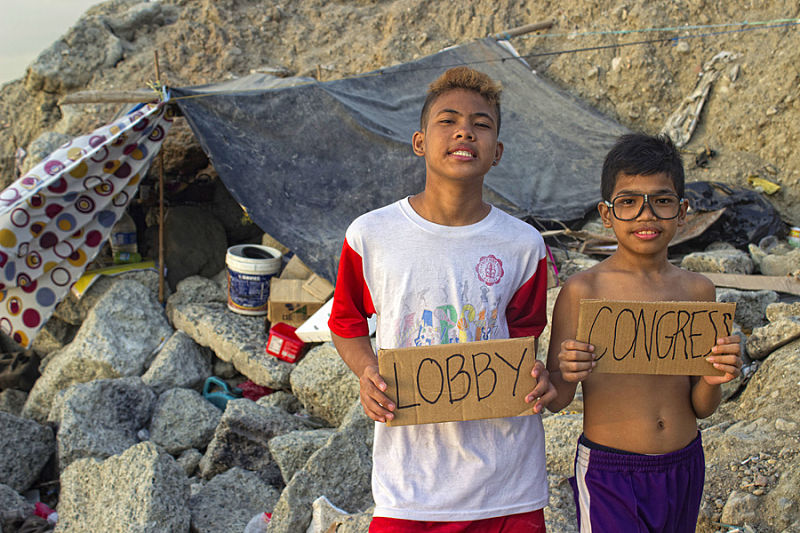 Outline of a Typical Lobbying Meeting
Introduce yourself and any supporters you may bring with you.
Overview of The Borgen Project and your role.
Cover how addressing global poverty helps create jobs in the U.S. and improves national security.
Speak directly about the bill(s) you are pushing, but don't go too in-depth with details.  Introduce the bill itself, state its current status (including how many people are currently cosponsoring it) and convey the importance of this particular bill to the constituents of the district and/or state.
Ask if there are any questions or concerns you can address regarding the bill(s), or anything else.
Make the "Ask." Let them know you would like them to cosponsor the bill.
Thank the Member of Congress or staffer for their time and consideration and ask them for their business card so that you can follow-up with them within the next week or so.
Optional: Take a photo with the Member of Congress or with the staffer you meet with. You can also take a photo of yourself outside the building or outside of the office!
Listen to Audio from Inside an Actual Lobbying Meeting
After the Meeting

Within the group, send a Thank You email to the congressional staff who were present at the meeting about one week after the meeting. Include any relevant info (link to bill discussed, PDF of one-pager on bill). An example of a Thank You can be found on this page.
Email your lobbying report form to [email protected] (and cc your manager). Ensure the subject of the email is 'Lobbying Report Form'.
Lobbying Tips
Lobbying is simply having a conversation with a person and communicating what you would like to see happen. Don't spend too much time thinking about the do's and don'ts. Go to the meeting, try to find common ground and form a connection with the person you're meeting with.
Likeability is everything. If you walk out of the room with them liking you, then they will be more likely to give your issue more attention and have you back for more meetings. Be positive and professional.
Use trigger words and tailor your message to the Member of Congress you are speaking with. For instance, when speaking with a Republican about the Global Poverty Act, focus on the connection between alleviating world poverty and improving U.S. national security as well as the wide-ranging economic benefits.
Meet Their Needs. When you're in the meeting, keep in mind that…
The staffer has to determine if they should ask their boss to cosponsor the bill. The staffer probably won't read the bill, but they might write an overview and briefly discuss the bill.  From you, the staffer needs to hear talking points that the leader will be responsive to (economic reasons for addressing poverty, national security reasons, etc.).

The political leader has to return to their congressional district and explain to voters why they're sending money overseas. From the group, they need to hear talking points that they can relay to voters (improves the economy, etc.). This is where it's really important that you generate lots of calls and emails to their office regarding the bill.  Political leaders frequently justify their vote on unpopular bills by saying they had lots of people contact them in support of it.
Supplemental materials for meetings:

What to Wear:  Look good… Damn good. Business attire. Clean cut. You're representing 1.2 billion people in these meetings.
Useful Tools
A survey of congressional staffers revealed that meetings with constituents have more influence over leaders than meetings with corporate lobbyists.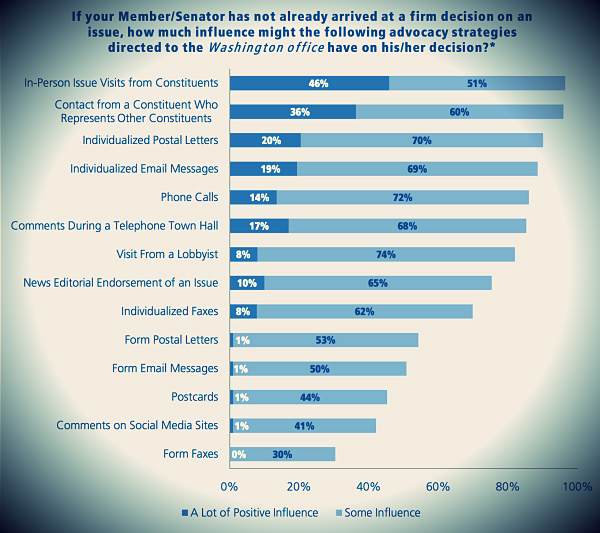 Sources: Congressfoundation.org
"Citizens who participate in the democratic process are overwhelmingly the most influential component in any lawmaker's decision-making process."
– Bradford Fitch, Former Congressional Staffer