Homelessness in the United Kingdom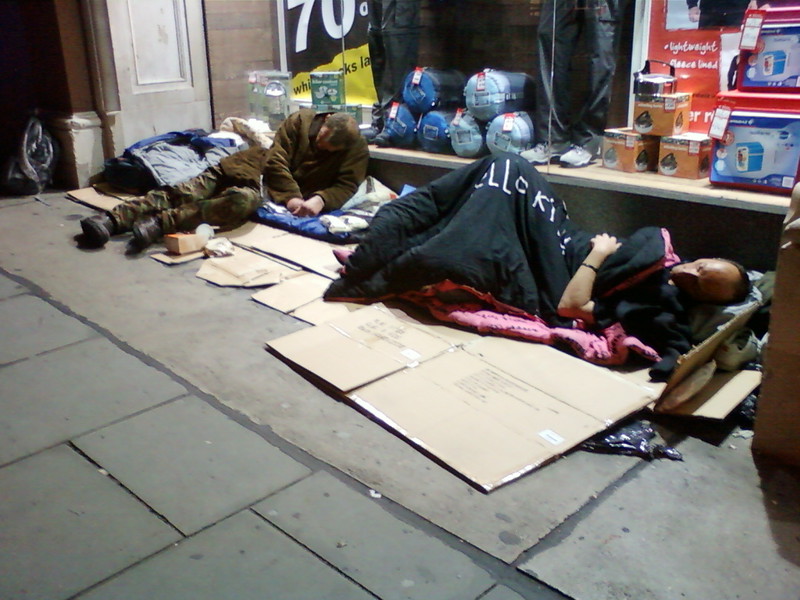 Homelessness around the world is a symptom of the violation of human rights that does not discriminate between individuals in developed or developing countries. Oftentimes, homelessness can lead to the inability of accessing other basic human rights like the right to work, education and privacy. This reality is especially the case for the homeless population in the United Kingdom. Homelessness in the United Kingdom affects nearly 280,000 people, with even more at risk due to lack of documentation. In the U.K, there are three classifications for homelessness: rough sleepers, statutory homelessness and hidden homelessness.
Rough Sleepers
Rough sleepers are defined as the most visible form of homelessness because these individuals are seen sleeping on the streets. Consequently, rough sleepers are the main image the general public has of homelessness. Most individuals who are classified as rough sleepers struggle with physical or mental health complications. These individuals are at a much higher risk of being in danger or susceptible to violent attacks by hostile aggressors. In 2019, there were nearly 4,266 people estimated to be rough sleepers on a single night, and the majority of the rough sleepers in England are men over the age of 26.
Statutory Homelessness
Statutory homelessness refers to households and families that approach their local authorities for assistance when they find themselves at risk of being homeless. Local authorities have a duty to provide accommodations for those in need of housing assistance. However, not everyone is qualified for the statutory homeless criteria, and are therefore unable to gain housing assistance.
It is worth mentioning that single people are significantly less likely to be considered in priority need of housing accommodations. In 2018, nearly 57,890 households were accepted as homeless in England.
According to Homeless Link, a nonprofit organization that campaigns for policy changes and advocates for services that benefit the homeless population, there are a myriad of reasons why individuals are classified as statutory homeless. These reasons can vary from repossession of mortgaged homes, loss of rented accommodations, violent relationship breakdowns with partners or parents who are unable or unwilling to continue providing accommodations. There are four main groups that are given priority accommodations and assistance. These are households with dependent children, pregnant women, those in an emergency and those considered vulnerable.
Hidden Homelessness
The third classification of homelessness is defined as hidden homelessness. The hidden homeless are not entitled to or do not seek out housing assistance. Consequently, they are not counted in official statistics. Most of these people find shelter in hostels, squatting, or couch-surfing in the homes of friends and families. As a result of the complications and inaccuracies of reporting homelessness to officials, it can be difficult to define a standard rate of homelessness in the U.K. In other words, the true level of homelessness is higher than the recorded 280,000 people documented as homeless.
What's Being Done
With the COVID-19 pandemic on the rise, homelessness in the United Kingdom has declined significantly as authorities take the necessary precautions to mitigate the risk of contracting the disease. This is done by isolating vulnerable populations by providing supportive accommodations for homeless people. According to government statistics, more than 90% of rough sleepers have been offered accommodation where they can remain safe and are able to protect themselves during the pandemic.
By ensuring rough sleepers are cared for, the rate of COVID-19 symptoms amongst the homeless population will continue to decline. This will protect these vulnerable people while reducing the burden on hospitals. While homelessness in the United Kingdom remains a pressing issue, the government is proactively working to help homeless people.
– Serena Brahaspat
Photo: Flickr
https://borgenproject.org/wp-content/uploads/logo.jpg
0
0
Jennifer Philipp
https://borgenproject.org/wp-content/uploads/logo.jpg
Jennifer Philipp
2020-11-28 01:30:11
2020-11-24 11:32:24
Homelessness in the United Kingdom