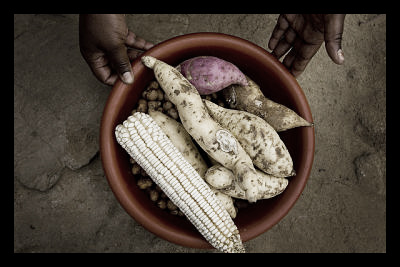 The presence of chronic hunger and the highest rates of obesity is one of the greatest paradoxes of our time. According to a study done at Ohio State University, "It is part of a single global food crisis, with economic, geopolitical, and environmental dimensions. It is perhaps the starkest, most basic way in which global inequality is manifest." While world hunger is proliferated by unequal resource distribution, the mechanisms of interconnected societies offer viable tools to alleviate suffering.
A myriad of non-governmental actors exist today to combat world hunger, including the World Food Program, Action Against Hunger, Doctors Without Borders and the United Nations High Commissioner of Refugees. While these international mechanisms have developed to meet recent needs, world hunger has existed throughout the course of human history.
World Hunger: Tale as Old as Time
There have been a variety of food systems over time. For a large portion of history, humans hunted or grew food for their own consumption, and food traveled only short distances from source to stomach. This does not mean, however, that long distance food exchanges were not present. From spice trades to acquiring "exotic" foods from colonies, a "mercantile food system" was present from 1500-1750. This was replaced by the "settler-colonial" regime during the nineteenth century in which white settler colonies traded luxury and basic foods and goods in return for European manufactured goods. The "productivist" food regime emerged after World War II which was characterized by food industries and the re-emergence of European and American agricultural protectionism. The idea that the entire world can experience a "food crisis" was coupled with the idea that one can foment a world free from hunger.
A neoliberal food regime has developed since the 1980s. Characterized by multinational and corporate power, this system has promoted a "global diet" that is high in sugars and fats at the expense of traditional or local diets. This trend in food is caused in part by globalization, and creates an intricate relationship between the individual and multinational corporations, local and distant farms and the environment.
Chronic hunger and food security are inherently connected. Citizens of the most industrial places on the planet still experience hunger on a massive scale. According to the vice president of the Poverty and Prosperity Program of the Center for American Progress: "people making trade-offs between food that's filling but not nutritious…(this) may actually contribute to obesity." Regarding larger scale suffering, extreme causes of world hunger include poverty, powerlessness, armed conflict, environmental overload and discrimination.
While hunger is understood differently across time, space and culture, it is important to alleviate this problem of chronic hunger. One must investigate sustainable solutions to the root causes of the problem, and these long-term solutions should be implemented by local peoples.
– Neti Gupta
Sources: Freedom from Hunger, National Geographic, Ohio State University
Photo: Flickr
https://borgenproject.org/wp-content/uploads/logo.jpg
0
0
Borgen Project
https://borgenproject.org/wp-content/uploads/logo.jpg
Borgen Project
2015-04-04 04:00:37
2020-07-03 08:38:30
History of World Hunger