Higher Education in Ethiopia Improves Despite Difficulties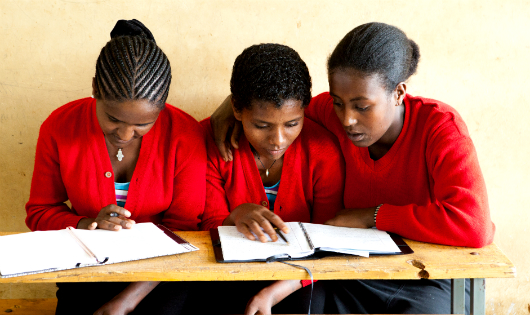 In 2015, enrollment for higher education in Ethiopia reached only 8%, compared to the 32% global average enrollment rate. While enrollment numbers fall short, Ethiopia's education system has improved since the end of their civil war in 1991.
Recovering from the damages of civil war is a difficult task and Ethiopia has been successfully making education a top priority. In 1990, 7.5% of government expenditure went to education and in 2009, 23.6% of government expenditure started going to education.
Most of the challenges for the infrastructure of higher education in Ethiopia are due to funding cuts and lecturers being committed to political parties. Anonymous workers at many universities say the schools require students to join the party and that spies report what is being said in the classrooms.
Over the next two years, Ethiopia plans to expand the number of universities to 42, an increase of 40 universities since 2000. The University of Jimma, which opened in 2013, has become one of the top research schools in Africa for materials science and engineering. Materials science and engineering is seen as the one of the most important fields for development and alleviating poverty in Ethiopia.
For primary education, the World Bank helped provide more than 78 million textbooks to students and improved conditions for teaching and learning in 40,000 schools through the General Education Quality Improvement Project. Teachers are becoming more qualified and many more are earning a three-year level diploma level.
Enrollment in primary education rose 500% from 1994 to 2009 with 15.5 million students in school. Today, 67.9% of school-aged children are attending primary school, a dramatic increase since the end of the civil war. Their progress in education exceeds the numbers of other war-stricken countries, such as Liberia, where only 40.6% of children are enrolled in primary school.
USAID is impacting the lives of 15 million children in primary school by improving their reading levels. In 2010, reading performances were low, and one-third of second grade students were non-readers. With the help of USAID, Ethiopia is experiencing an increase in reading and writing skills and more involvement from parents.
As primary and secondary education in Ethiopia strengthens, it is hopeful students will enroll in higher education and take part in PhD programs, which few Ethiopians have a chance to achieve. University of Jimma's engineering department graduated their first 18 PhD students without any funding from the government.
The university staff volunteered their time to help students with the opportunity of gaining a high degree that will help propel those living in poverty and improve development in Ethiopia.
"You only need a couple of weeks in Ethiopia to realize that materials science is a priority," says Pablo Corrochano, associate professor at Jimma. "Even in the capital you'll experience cuts in power and water; in rural areas it's even worse."
– Donald Gering
Sources: The Guardian, ODI, Social Progress Imperative, USAID, World Bank
Photo: Pathfinder
https://borgenproject.org/wp-content/uploads/logo.jpg
0
0
Borgen Project
https://borgenproject.org/wp-content/uploads/logo.jpg
Borgen Project
2015-07-24 08:40:44
2020-07-07 14:22:47
Higher Education in Ethiopia Improves Despite Difficulties