Health Technologies for Developing Countries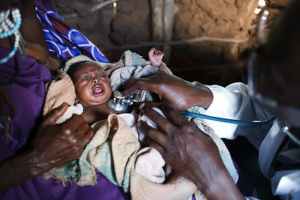 In recent years, there have been numerous innovations in medicine and new health technologies for developing countries. These technologies target a large variety of issues including medical testing, identifying safe drinking water, filtering dirty water and decreasing infant and maternal mortality rates. Some innovations that have had a significant impact on global health and show potential for future interventions include Hemafuse, Embrace Warmers, 3D printing in medicine and SMS services to identify counterfeit medicine in Sub-Saharan Africa. 
Hemafuse
The Hemafuse is a recent example of new health technologies for developing countries. Autotransfusion is a medical procedure that recycles a patient's blood back into their system. This practice can be extremely useful when there is no donor or matching blood type in injuries with large volumes of blood loss or internal bleedings. Blood transfusions are necessary for many medical situations. A significant number of maternal deaths in developing countries result from blood loss. Medics in Sub-Saharan Africa often use an extremely unsanitary technique of blood transfusion that involves a kitchen soup ladle because of the lack of alternatives. Before being reinfused into the patient's system, the blood is filtered using gauze.
Sisu Global Health developed the Hemafuse for women with ruptured ectopic pregnancies to prevent life-threatening internal bleeding. The handheld device recovers blood from internal bleeds, filters out clots and impurities and reinfuses it the patient. Sisu Global Health is hoping to expand its design and impact 14 million lives. The device is easy to use and has the potential to decrease maternal mortality rates in developing countries. This is because it is sterile and does not require donor blood.
Embrace Warmers
The Embrace warmer is one of the health technologies for developing countries created to help newborns. The warmers were designed as portable incubators and warmers for newborns who are born premature or are lacking body fat. Lack of electricity and heating in hospitals can lead to complications such as neonatal hypothermia for newborns in developing countries. Jane Chen designed Embrace warmers at Stanford University and the device costs less than 1% of what regular incubators cost. More than 300,000 newborns in 22 countries benefitted from Embrace warmers. Organizations around the world have recognized this innovation, as well as influential people including Beyoncé and Barack Obama.
3D Printing for Developing Countries 
3D printing technology has resulted in huge advances in medicine. Specifically, 3D printing as a form of health technology for developing countries can help improve access to medical supplies. Developing prosthetics, setting up field hospitals and creating medical devices are all ways in which 3D printing can improve healthcare in developing countries.
Around the world, 80% of individuals who need prosthetics don't have access to them. The e-NABLING the Future project is a network of volunteers who bring affordable 3D printing designs for hands and arms to those in need. There are many people in the developing world who have lost fingers or hands to war, natural disasters or disease. Through the 3D printing of prosthetics, these individuals have the opportunity to regain the use of their hands and fingers.
Doctors Without Borders has been looking into how 3D printing could be used for field hospital setups. Additionally, 3D printing allows for medical supplies to be produced directly in developing countries instead of being imported. This process can help spark medical development in poor areas instead of relying on products from other countries. Medical supplies produced by 3D printers include water testing kits that test for bacteria to determine if the water is safe for drinking and lab-in-a-box kits that are solar-powered and test for various diseases.
SMS Texting for Fake Drugs
Another increasingly pressing health issue is counterfeit medicine in sub-Saharan Africa. It is difficult to know exactly how many counterfeit drugs are circulating because the market is underground. However, there have been many counterfeit drug seizures in recent years. One out of every 10 medical drugs in all developing countries, and therefore most of Africa, is counterfeit or not standardized according to the World Health Organization (WHO). The WHO also estimates that counterfeit medicine causes 116,000 deaths annually in Sub-Saharan Africa, costing $38.5 million every year.
While there needs to be structural reform to address the issue, a company founded in 2009 by Bright Simons from Ghana has developed a text messaging system so that users can verify whether the drugs they have are legitimate. The company has since grown and has helped more than 100 million individuals. Users must scan the drug's barcode with their phone camera or text a code from the drug's label to a hotline for verification.
Many exciting health technologies for developing countries have been introduced in recent years. These innovations can be extremely effective and have the potential to tackle global health issues, but proper access remains an issue. Simply developing these technologies does not ensure that underserved communities have access to them. Some of the most common issues regarding access are affordability, low supply and low production. This is due to the underestimation of the demand for products in developing countries. Developing access plans that take into account all of the social, economic and cultural barriers to access is crucial to ensure that these innovations can make an impact on global health in developing countries.
– Maia Cullen
Photo: Flickr
https://borgenproject.org/wp-content/uploads/logo.jpg
0
0
Jennifer Philipp
https://borgenproject.org/wp-content/uploads/logo.jpg
Jennifer Philipp
2020-07-20 15:37:42
2020-07-21 04:49:15
Health Technologies for Developing Countries