Free Meals for Indian School Children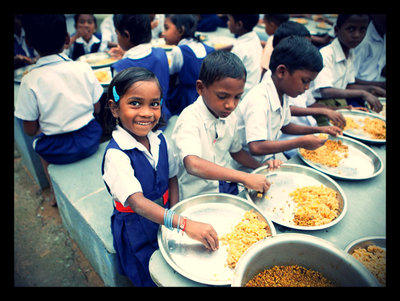 Imagine what it's like to have to choose between attending elementary school or harvesting wheat as a means of preventing starvation. Sadly, for many children in India where –according to UNICEF – upwards of 40 % of the population under five is underweight, this choice is one that many of their students have to make on a daily basis. However, thanks to the efforts of The Akshaya Patra Foundation and some assembly line ingenuity, free meals for Indian school children are now a reality for many elementary and middle school students.
The free meals for Indian school children program were incorporated following a 2001 Supreme Court Ruling institutionalizing free meals for all children under the age of 13. The Indian Government – in cooperation with The Akshaya Patra Foundation – has been able to feed 1.4 million children a day, resulting in greater attendance and a heightened ability to focus in class. The Foundation's Vice Chairman, Chanchalapathi Dasa, remarked that "If a child is hungry in the classroom then he or she will not be able to receive all this education."
But how does the government-run a program to provide that many free meals for Indian school children in one day? The answer is through an ingenious "gravity flow" kitchen that utilizes the technologies of mass production and efficiency. Basically, the kitchen is divided into 3 floors where food is prepped on the third floor, sent down –via a chute – to the cauldrons for cooking on the second floor, and sent down a final chute to be packaged and shipped to the schools on the first floor. Vice-Chairman Dasa added that the organization knew the scope of the problem that they were trying to address and "realized that in order to see a significant impact we have to do it in scale and that we have to use modern techniques of management and innovation" to make a difference.
Programs such as these serve as a much needed shot in the arm in combating global poverty and chronic undernourishment for much of India's youth. By providing free meals for Indian schoolchildren, investments made by the government today will result in greater technological innovation through educational achievements in the future.
– Brian Turner
Source: CNN
Photo: UNICEF
https://borgenproject.org/wp-content/uploads/logo.jpg
0
0
Borgen Project
https://borgenproject.org/wp-content/uploads/logo.jpg
Borgen Project
2013-04-17 08:34:54
2020-06-12 01:13:30
Free Meals for Indian School Children