Fighting Hunger in Asia Through Female Empowerment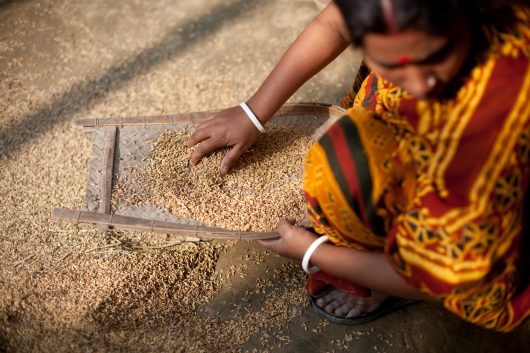 According to UNICEF, "In 2015, more than half of all stunted children under five lived in Asia." Further, the organization notes that the wasting rate in Southern Asia is close to being "a critical public health emergency." In light of these concerning statistics, research has illuminated how an interdisciplinary female-focused approach to fighting hunger in Asia is the key to success for both child nutrition and the overall health of the community.
Gender inequality is more prevalent in South Asia than other parts of the continent, with a gender inequality index measuring .0536. This is on a scale from 0 being completely equal to 1 being not equal — the ratings in Singapore and The Republic of Korea are 0.088 and 0.125 respectively. Data suggests that improvements in women's equality may hold the key to reducing South Asia's current child undernutrition rate of 36%.
Groundbreaking research carried out in 1998 by the International Food Policy Research Institute in Washington, D.C., showed that gender inequality plays a large role in malnutrition.
While analyzing global data, the authors Smith and Haddad showed that improvement in women's status and improvement in women's enrollment in secondary education was responsible for over half of the reductions in child malnutrition.
Other major factors, such as food availability and improvements in a health environment, contributed to only 26% and 19% of the malnutrition reductions, respectively.
Further publications such as the World Bank Global Monitoring Report of 2007 highlight how creating diverse opportunities for women can directly combat hunger in Asia. Education benefits child nutrition by increasing access to information for expectant and current mothers and child malnutrition decreases when women have more control of the household's resources.
Nutrition is not only important for child growth but is also an investment in preventative health. The danger of not supporting female-focused initiatives is potent, due to the foundational importance of nutrition on well-being.
Over 5 million individuals are currently living with HIV in Asia, according to UNAIDS, with 19,000 new infections in children in 2015 alone. In malnourished patients, HIV quickly progresses toward AIDS due to the immune system's lack of essential nutrients.
Other opportunistic infections, such as tuberculosis, which is present in its "latent" non-active form in one-third of the world's population, can then thrive in the absence of a functional immune system and can threaten entire communities.
However, focused efforts are being made to improve nutrition with an interdisciplinary approach. CARE International, a U.K. based company, sponsored the Shouhardo Project in Bangladesh to fight child malnutrition through women's empowerment.
By implementing community initiatives to confront early marriage, prevent violence against women, give more power to women in business transactions and have more political power in the local sphere, outcomes changed.
Before the project began, less than 25% of women reported being involved in decisions to buy or sell family assets, or use savings. At the end of the study period, almost 50% of women were included in such decisions. As a result, the data collected showed a 30% drop in child stunting.
More initiatives in Asia are focusing on women's role in child well-being, such as the Every Woman Every Child movement, which recently launched a campaign to use mobile phones to educate women on nutrition for their children in India.
India's Self-Employed Women's Association (SEWA) has partnered with the Food and Agriculture organization of the U.N. to boost economic opportunities for women in rural areas, with the direct goal of fighting nutrition through such avenues.
These programs are evidence of why female leadership is so important, especially in an area where gender inequality is prominent. As such initiatives develop and are supported, communities will see unprecedented gains in the fight against hunger.
– Patrick Tolosky
Photo: Flickr
https://borgenproject.org/wp-content/uploads/logo.jpg
0
0
Borgen Project
https://borgenproject.org/wp-content/uploads/logo.jpg
Borgen Project
2016-11-01 01:30:44
2020-05-28 15:04:15
Fighting Hunger in Asia Through Female Empowerment