Fighting Homelessness in Bangladesh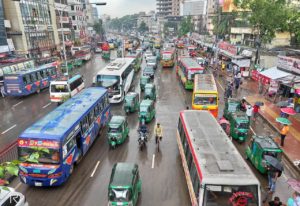 Bangladesh, a small country located in South Asia, is the eighth-most populous in the world, home to over 160 million people. It is no surprise that the majority of inhabitants reside in crowded cities; 21 million people live in the capital of Dhaka alone. With a vast population concentrated in such a narrow region, space and resources are in short supply. Almost one in four people live in poverty, and homelessness in Bangladesh is prominent; five million people live without housing and 124 million live in mud houses and slums.
Poverty and Homelessness
Poverty and homelessness have an intertwined relationship; circumstances of poverty — such as debt, lack of education, poor mental and physical health and disability — are underlying causes of homelessness.
The homeless population in Bangladesh, especially women abandoned by their spouses and too poor to provide for themselves, are exposed to many instances of violence, drug abuse and sexual assault. A study conducted in 2009 found that 83% of homeless female respondents were assaulted by their husbands, male police officers and other men in their vicinity. 69% of the male respondents used locally-available drugs, such as heroin, and two-thirds of injecting drug-users shared needles.
Progress
Despite these harsh realities, regional homelessness in Bangladesh has actually improved and poverty rates have dropped over the years. According to the Bangladesh Poverty Assessment conducted by the World Bank Group, the country halved poverty rates since 2000. More than 25 million people were lifted from these conditions.
Under the Bangladesh Awami League's Ashrayan Project-2, a plan to help the homeless become economically independent, a total of 297,886 families have been rehabilitated. The first two phases of the scheme were successfully completed in 2010 and the final phase is expected to be completed by June 2022.
Rural regions in the country, namely Chittagong, Barisal and Sylhet, have seen most of this decline. They account for 90% of all poverty reduction that occurred from 2010 to 2016. Even despite the cyclones in Bangladesh that account for 70% of all storm surges in the world, World Bank Group President Jim Yong Kim says that "Bangladesh has adapted to climate threats, putting in place early warning systems, cyclone shelters, evacuation plans, coastal embankments and reforestation schemes." The remoteness of these rural areas is the ideal grounds to invest in infrastructure and educate the populations there who live each day hand to mouth, wondering what may come tomorrow.
Homelessness Relief: Habitat for Humanity
When it comes to the fight against homelessness, non-governmental organizations such as Habitat for Humanity have provided Bangladeshi people with affordable housing, clean water and safe sanitation, training in construction technology and even disaster mitigation. In Dhaka, Habitat Bangladesh started its first urban project with the revamping of three slums. With help from Australia's Department of Foreign Affairs and Trade, the organization helped 9,000 people through housing construction and renovations; this included the construction of water pumps, drainage systems and walkways, as well as bathhouses and community toilets.
Looking Toward the Future
As urbanization takes place, projections point towards more than half of Bangladesh's poor households living in urban areas by 2030. But this requires adequate housing and transforming more slums into decently habitable homes and communities. The Bangladesh government's draft of a National Urban Policy aims for sustainable urbanization. The policy visualizes a decentralized urban development; a place where the central and local governments, private sector, civil society and people all have important roles to play. The seventh Five Year Plan proposes allocating resources to address urbanization through the Annual Development Programme, though a feasible urbanization policy is still in the works.
Even further, educating and empowering the populations migrating to and residing in the cities, expanding the female labor workforce, fighting poverty and consistently innovating will help this nation achieve its goal of becoming an upper-middle-income nation by 2021. It is important to continue investing in projects and policies that are helping fight homelessness in Bangladesh; much progress has been made and much is yet to be done.
– Sarah Uddin
Photo: Pixabay
https://borgenproject.org/wp-content/uploads/logo.jpg
0
0
Kim Thelwell
https://borgenproject.org/wp-content/uploads/logo.jpg
Kim Thelwell
2020-07-30 11:49:04
2020-07-30 11:49:04
Fighting Homelessness in Bangladesh