Poverty in Papua New Guinea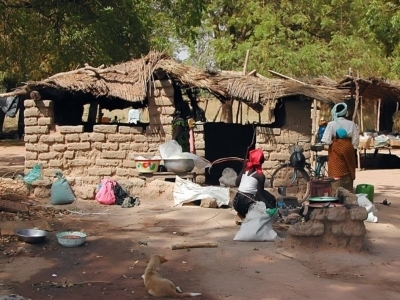 The common notion is that Papua New Guinea is composed of mostly of rural tribes and coconut trees; this is not true. In fact, the big island boasts an abundance of natural resources that include gold, copper, silver, gas and oil. Papua New Guinea's resources have attracted many foreign companies to want to work in the region and exploit its resources, including the U.S. oil giant Exxon Mobile Corp. According to the World Bank, the country's GDP has steadily increased from $3.5 billion in 2000 to $24.97 billion today. Yet, it seems that poverty in Papua New Guinea is still pervasive.
Lack of Basic Necessities
Poverty in Papua New Guinea is influenced by education, healthcare and infrastructure. Around "80% of Papua New Guinea's people live in rural areas." According to the World Bank, less than 40% of those living in these areas have electricity in their households whether on or off the grid. In rural areas, there is limited access to clean water and sanitation. In fact, only 8% of rural areas have proper sanitation. This is causing major illnesses and an almost 40% infant mortality rate.
The inability to receive adequate healthcare is another factor that perpetuates poverty in Papua New Guinea. Medical facilities often lack basic resources such as equipment, vaccines and even workers. Papua New Guinea has a population of 8 million people but "only 500 doctors, less than 4,000 nurses, and 5,000 hospital beds." After 20 years, it has recently been facing the return of polio and HIV because of shortages of vaccines and proper treatment. In addition, the majority of people living in rural areas do not have access to resources because of the lack of developed roads. Therefore, they have to walk long distances to reach these facilities.
Furthermore, not all students in rural areas have access to village schools. Some need to walk miles to reach their schools. Most of these schools lack resources and teachers who often do not have the appropriate training. In 2018, there was a shortage of 10,000 teachers in schools, most of which were in rural areas.
Education and Health Setbacks and Initiatives
The Tuition-Free Free education policy launched in 2012. This policy was an attempt in providing free education to the population. However, the government has failed to deliver the funds to the schools, causing many to close down. To make matters worse, Papua New Guinea suffered from a 7.5 magnitude earthquake in 2018. the earthquake. The quake and its subsequent aftershocks caused the death of around 31 people and the displacement of more than 30,000. This increased the overall poverty rate in Papua New Guinea.
Many healthcare facilities, schools and homes were destroyed. Providing better access to quality infrastructure is one of the ways in which poverty in Papua New Guinea can improve. The creation of more roads will increase the accessibility of healthcare and education. Improving the overall education, healthcare and transport infrastructure is one of the goals of WHO, UNICEF and Asian Development Bank. In 2017, ADB provided "$680 million for the Sustainable Highlands Highway Investment Program", which will connect roads and services to around three million people. In addition, it also committed almost $3 million for the Health Services Sector Development Program and the Rural Primary Health Services Delivery Project. Both projects aim to strengthen the health services in Papua New Guinea.
The Good News
James Marape, the new Prime Minister, is making efforts to fight poverty. The education system is undergoing its fourth reform with a focus on reaching and providing better resources to the young population. On top of that, partnership projects are working to support the health system. For example, the World Bank's Emergency Tuberculosis project is a $15 million project that has already been making an impact since 2017.
The response to poverty in Papua New Guinea will depend solely on improving the health system and education of its population. This is especially imperative now since now more than half of the population is composed of young people. If the country's opportunities and health are improved, the country can be led into prosperity.
– Alannys Milano
Photo: Flickr
https://borgenproject.org/wp-content/uploads/The_Borgen_Project_Logo_small.jpg
0
0
Borgen Project
https://borgenproject.org/wp-content/uploads/The_Borgen_Project_Logo_small.jpg
Borgen Project
2020-07-30 12:28:22
2020-07-30 12:28:22
Poverty in Papua New Guinea