Female Farmers: The Key to End World Hunger?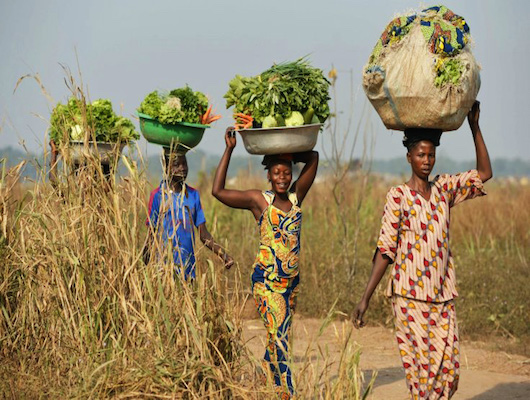 More women are involved in farming than with any other occupation. In developing countries, female farmers perform almost half of all agricultural labor and account for an estimated two-thirds of the world's 600 million impoverished livestock keepers. However, women in many of the poorest regions of the world are denied equal rights to access, use, inheritance and control of the land they rely on to survive.
With unequal access to tools, training and land, female-run farms produce between 14 to 30 percent lower yields, according to a 2014 study by the World Bank.
The same report determined that if female farmers were treated equally in agriculture across Africa farm yields would increase by up to 30 percent.
According to the Food and Agriculture Organization of the United Nations, a percentage increase of that magnitude could feed an additional 150 million people every day, thereby reducing the number of undernourished people in the world by 12 to 17 percent.
Landesa is a rural development institute aimed at reforming laws and policy tools to help alleviate poverty, reduce hunger and ease land conflict. Their research illustrates the effects created when women are economically and socially empowered through secure legal rights to land.
According to Landesa, when women are given land rights they:
grow more on their land and their children are 33 percent less likely to be malnourished
are 8 times less likely to be victims of domestic violence
earn up to 4 times as much in income
are more likely to direct their wealth towards their children's needs than men
U.N. Women, a United Nations entity for gender equality and female empowerment, describes gender equality and women's rights as cross-cutting throughout the 2030 Agenda, with its 17 Sustainable Development Goals (SDGs).
The SDGs are fundamentally linked to the lives of women and girls globally, especially those of rural women. This is particularly true for the goal to universally end poverty in all its forms, the goal to end hunger, achieve food security and improved nutrition, promote sustainable agriculture as well as the goal to achieve gender equality and women's empowerment.
U.N. Women describe rural women as key agents for achieving the economic, environmental and social changes required for sustainable development. Limited access to credit, health care and education are among the many challenges faced by women.
Land ownership and other means of women's empowerment are crucial not only to the well-being of individuals, families and rural communities but also economic productivity, given women's presence in the agricultural field.
– Kara Buckley
Sources: FAO, Landesa, Rockefeller Foundation, Take Part, UN Women
Photo: Google Images
https://borgenproject.org/wp-content/uploads/logo.jpg
0
0
Borgen Project
https://borgenproject.org/wp-content/uploads/logo.jpg
Borgen Project
2016-01-05 06:11:35
2020-06-25 10:52:06
Female Farmers: The Key to End World Hunger?