Feed the Future Helps Small Farmers in Africa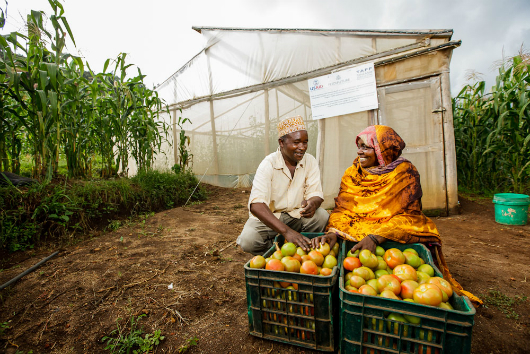 Daniel Obare used to be a subsistence farmer. His family ate most of the tomatoes and green peppers he grew, and he sold the surplus on the side. Today, he cultivates watermelons on three acres of land and uses cutting-edge farming techniques. He and his family have experienced a huge lifestyle improvement thanks to the agricultural guidance of USAID's Feed the Future initiative.
Most Tanzanian farmers do not have the training or equipment required to properly use chemical fertilizers and pesticides. They use untreated seeds planted at random distances apart in sunken beds and often rely on rainfall for precious irrigation. These inefficient techniques result in lower yields, farms that are more vulnerable to extreme weather and high levels of pollution caused by chemical runoff.
In September 2014, Obare attended a farmer's convention in Mbeya called the Nane Nane Fair. There, he met members of the Tanzania Horticultural Association, a group run by Tanzanians and supported by USAID.
With their help, Obare learned more modern farming techniques and dramatically increased his yield. "My lifestyle has completely changed. For instance, my daughter, who was in a government school, has been transferred into a private school that has more facilities. I can confidently pay 1.5 million TZS [$740] for her annual school fees," Obare said.
Obare's experience in Tanzania is indicative of a greater trend throughout Africa. USAID's Feed the Future initiative works in 12 African nations supporting groups like the Tanzania Horticultural Association. The programs differ by country, from the small farmer training and support in Tanzania to trade hub programs in Zambia, Lesotho, Swaziland, Namibia, South Africa, Botswana, Malawi and Mozambique.
"The trade hub provides targeted technical assistance to governments, the private sector and civil society organizations to advance regional trade within southern Africa while incorporating gender integration, environment compliance and strategic outreach in all activities," a USAID report stated.
Feed the Future is ultimately trying to give developing nations a strong economic base in sustainable agriculture. Their initiatives focus on efficiency, resilience in the face of a changing climate and gender equality. Their impact has been felt by small farmers and administrators alike.
James Bever, a former mission director for USAID, is enthusiastic about the program's potential. When asked about the Feed the Future programs in Ghana, he told reporters that agribusiness has the potential to really take off, especially in northern Ghana.
"It is a sustainable model and we are extremely excited about it," he said. "I think Ghana is in the path to an agricultural revolution that really can turn the northern part of the country to a bread basket and reduce imports. The north is where there is a real potential for quick improvement in grain production such as rice, white and yellow maize and sorghum, which are marketable."
The dedication of local agricultural groups is turning USAID's support into skills and their goals into reality. More farmers are being helped every day, and despite the challenges they face, small farmers in Africa are living markedly better lives.
– Marina Middleton
Sources: Feed the Future 1, Business Ghana USAID 1, Feed the Future 2 USAID 2
Photo: Flickr
https://borgenproject.org/wp-content/uploads/logo.jpg
0
0
Borgen Project
https://borgenproject.org/wp-content/uploads/logo.jpg
Borgen Project
2015-06-25 11:00:27
2020-07-15 09:17:17
Feed the Future Helps Small Farmers in Africa