Overcoming Barriers to Education for Internally Displaced Children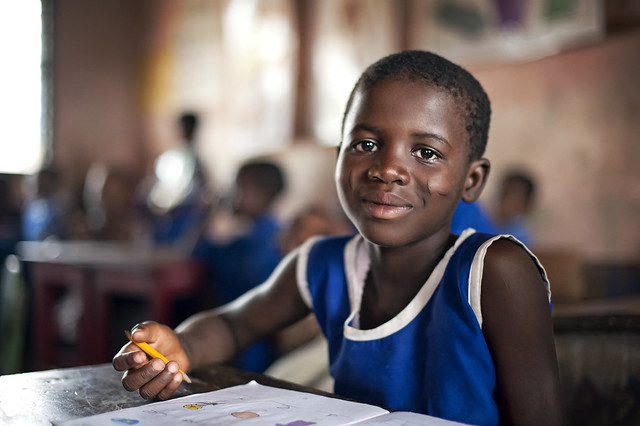 Violence or conflict internally displaces approximately 17 million children worldwide. Internally displaced persons (IDPs) are those who have been forced to leave their homes but remain within the borders of their country of origin. A majority of IDPs live in urban areas, where they often lack access to basic services, including health care, housing and education. Ensuring access to education for internally displaced children is essential to improving livelihoods and fostering social cohesion.
Initiatives in Nigeria and Kenya represent important steps toward ensuring education for all internally displaced children in those countries.
Barriers to Education
For internally displaced children, schools are crucial to integrating into their new host community and regaining some normalcy after fleeing violence. Unfortunately, a myriad of challenges prevents many of these children from being able to attend school. A lack of documentation, financial struggles, language barriers, physical distance from the nearest school and a lack of education facilities in the area could possibly prevent internally displaced children from pursuing their education.
Furthermore, child labor, child marriage and recruitment by armed forces and gangs are other significant barriers to education for internally displaced children. IDPs often experience severe poverty and, as a way to make more money, send their children to work within the informal sector, thereby preventing them from going to school.
Child marriage is seen as another way to help overcome poverty, as marrying into the host community can provide economic and social benefits. Child marriage is frequently forced onto internally displaced children, especially girls. For IDPs who choose to marry when they are young, becoming independent from their parents may be a motivating factor. Once married, children rarely begin or continue their education.
Additionally, internally displaced children tend to live in poor, crime-ridden districts. They are more likely to be recruited by local gangs or armed groups in these areas. In Colombia, armed groups seek out children because they are able to avoid heavy criminal sentences if caught.
Conflict also negatively impacts education infrastructure, hurting educational opportunities for internally displaced children. Displacement disproportionately affects girls, who face additional challenges. Girls are 2.5 times more likely to not attend school in countries experiencing conflict. Gender-based violence and harassment that occurs at school and on the route to and from education facilities keep many girls at home. The abduction and rape that has occurred in at least 18 countries, along with the bombing of girls' schools, also encourages families to keep their daughters at home rather than sending them to school.
UNICEF Recommendations
UNICEF recommends several tactics to overcome these barriers to education for internally displaced children. The organization's primary goal is to ensure humanitarian organizations and governments begin to see education as a greater priority for IDPs. Education is commonly seen as secondary to addressing violence. Unfortunately, when conflicts last for years and decades, waiting to invest in education can leave generations of internally displaced children without schooling.
Key recommendations include strengthening education systems, abolishing school fees to reduce financial constraints and adapting curricula to address prejudices and promote diversity and social cohesion.
Case Study: Kenya
A study conducted at a Kenya school in 2013 and 2014 provides valuable insight into the benefits of educating internally displaced children alongside local children. At the school studied, 71 percent of students were internally displaced. However, efforts were made to provide an inclusive education that strengthened community relationships.
The study found that many internally displaced children were initially apprehensive about being accepted by their new school community. This sometimes lasted, but usually dissipated after a few weeks as the children become comfortable with each other. One student, Jey, told an author from the International Journal of Child Care and Education Policy, "I like this school because pupils like me. I don't have any enemies all of them help me."
Furthermore, students at the school developed community-consciousness. Many were aware of social inequalities that existed in Kenya. Internally displaced children recognized the disadvantages they and their families faced and were motivated to complete school to improve their futures.
Overall, more schools like this one in Kenya are needed to help bridge gaps between host communities and IDPs. This will improve opportunities for internally displaced children.
Plan International: Nigeria
In Nigeria, Plan International is creating learning centers to provide education for internally displaced children. These centers are created in areas that lack educational infrastructure and seek to support IDPs.
Patim, one of the teachers at a learning center in Maiduguri, noted that many of the children she teaches have lost their parents and require a great deal of support. The learning centers are doing what they can but often lack adequate resources and staff. However, the work being done is still directly benefiting many children. Patim recognizes that many of her students would be working on the streets if it wasn't for the learning center. Attending the center helps keep children safe during the day.
Moving Forward
More communities and nations need to adopt UNICEF's recommendations to ensure the availability of education for internally displaced children. Hopefully, recent attention to this issue will spark significant change in more countries, improving the livelihoods of IDPs around the world.
– Sara Olk
Photo: Flickr
https://borgenproject.org/wp-content/uploads/logo.jpg
0
0
Kim Thelwell
https://borgenproject.org/wp-content/uploads/logo.jpg
Kim Thelwell
2019-09-12 01:30:21
2019-10-29 10:08:53
Overcoming Barriers to Education for Internally Displaced Children