Fighting the Denial of Education for Blind People in India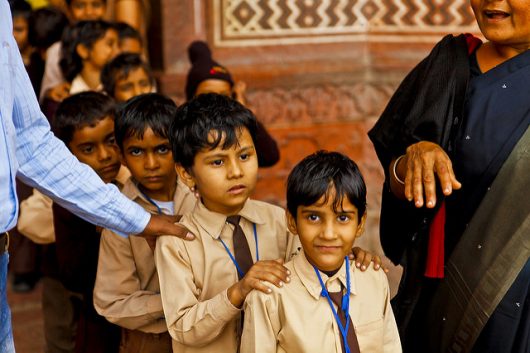 Education is considered a fundamental human right, and yet most blind Indians are denied access to basic education. As a result, teaching professionals in India and nonprofits such as Sightsavers are taking action to ensure that blind people in India get the education they deserve.
India is home to the largest blind population on the planet. These 15 million blind people in India are often denied basic rights, as a majority of them live in poverty. According to experts, blindness is a major contributor to the poverty cycle. It is believed that there are currently more than two million blind children in India who are vulnerable to illiteracy and poverty, but only five percent of them receive any type of education.
The National Association for the Blind (India) states that it is working every day to bring more educational opportunities to blind people in India. In partnership with local volunteer organizations, NAB (India) has been able to initiate education for more than 5,000 children with vision loss. Additionally, NAB (India) tries to provide free Braille kits for blind students and is implementing a training center for teachers of those with vision loss.
Many blind Indians note that proper education has been one of the most important contributors to their success. National Geographic did a piece on an inspiring school in India that prepares blind youth for life. In this piece, the headmaster of a blind school in India states that "most of the visually impaired children come from such families where they are very, very neglected… as they're neglected, we try to provide them love and affection [and] at the same time a training program to make them contributing to their family."
A non-profit called Sightsavers is also working closely with schools and teachers in order to optimize curricula for blind children in India. Tools and technology are crucial to the success of a blind child's education. These include physical aids (white canes, materials in Braille, etc.) and technology that is low-vision friendly. As a member of the Global Campaign for Education, Sightsavers works with local partners, where they help provide proper education materials and revise disability curricula. Sightsavers' work ranges from one-on-one help all the way to regional advocacy.
Education is not only important to the success of blind people in India, but also a way to end vicious poverty cycles and bring about long-term happiness.
– Morgan Leahy
Photo: Flickr
https://borgenproject.org/wp-content/uploads/logo.jpg
0
0
Borgen Project
https://borgenproject.org/wp-content/uploads/logo.jpg
Borgen Project
2017-06-15 07:30:40
2020-04-18 13:11:23
Fighting the Denial of Education for Blind People in India