The Impact of Education on Poverty in Uganda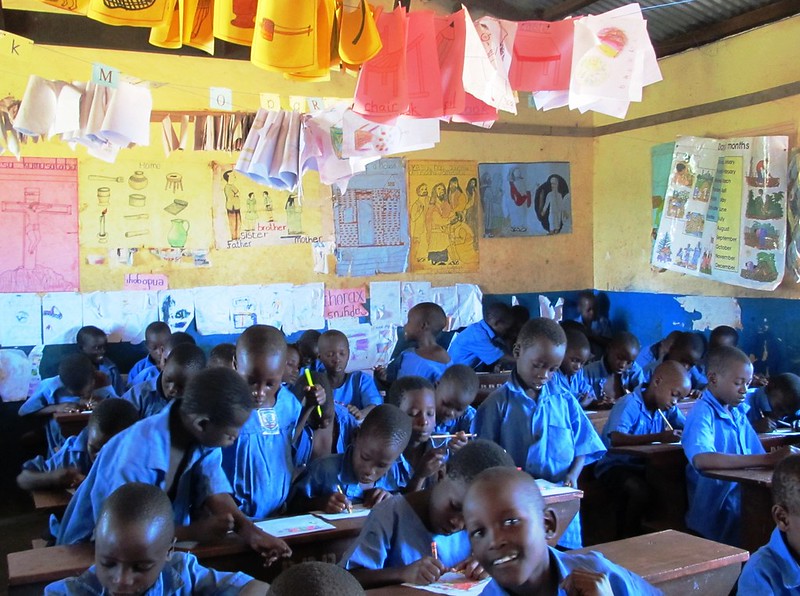 Education has an incredible impact on poverty all over the world. When ways to grow and develop become available, poverty decreases. For education in Uganda, the story is no different. While income inequality, gender disparity and regional issues come between many Ugandans and improving their lives, many have used education to push themselves into brighter futures. Through governmental improvements, private school options, and the sheer desire of the Ugandan people for education, progress is being made.
Public Education
In 1997, Uganda implemented the Universal Primary Education Policy, which waived the fees for any student attending the first seven years of school— primary 1 to primary 7. Attendance remained voluntary, and the parents still needed to provide important supplies for the students and labor to build the schoolhouses. Even so, primary school attendance increased 145% in the first six years after the policy was put in place. The program expanded to include secondary education in 2007. The increase in attendance is a testament to the desire for education in Uganda.
According to Lawrence Bategeka and Nathan Okurut— analysts in Kampala, Uganda— "The UPE programme in Uganda demonstrates that a poor country with a committed government and donor support can fight poverty through ensuring universal access to education for its citizens." Unfortunately, the UPE had limited impact on poverty. According to John Ekaju, "this 'UPE centric' approach ignored the precarious situation of the large number of illiterate children, youths and adults." He recommends that the policy be reevaluated. He predicts that improved higher education could half the poverty rates.
Secondary and Higher Education
Education in Uganda is incredibly competitive. Rigorous tests after primary school determine secondary education opportunities. Often times, this results in schools choosing the best students in order to "improve their grade average and national standing."
While attendance has improved in Uganda's public education, the quality of the actual education has not. Because there are more students than resources, teachers often have 100 children per class and not nearly enough materials or space. With this many students, teachers burn out quickly, and students lack the individualized instruction that has the greatest effect. This means that students who want a good education must turn to expensive private schools.
Private Education
Boarding schools and private schools offer higher quality education to the families who can afford it. These schools often have better teachers who can offer more individualized time with students. While this is a positive alternative for some families, those stuck in poverty are left on the outside.
According to Transforming Uganda, because many families live on less than $2 a day and "typical annual primary school required costs range from $50 to $150 for day schools," many families cannot feasibly afford to send their children to these schools. According to the Initiative for Social and Economic Rights, the fees that the private schools require are "bound to result in discrimination by keeping more children out of school, particularly those from low income households."
Though improvement has begun, Uganda's educational fight is far from over. In order to close the gap, better education and more opportunities need to arise. As the education in Uganda improves, poverty will decrease and more people will feel empowered to take control of their futures.
– Abigail Lawrence
Photo: Flickr
https://borgenproject.org/wp-content/uploads/logo.jpg
0
0
Kim Thelwell
https://borgenproject.org/wp-content/uploads/logo.jpg
Kim Thelwell
2020-07-23 10:35:58
2020-07-23 10:35:58
The Impact of Education on Poverty in Uganda