EcoDomum is Reshaping Affordable Housing in Mexico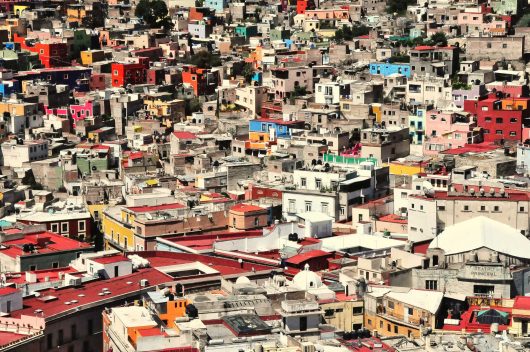 In many developing countries, rapid industrialization and motorization contribute to high levels of environmental pollution. The physical toll of disposable product packaging and plastics is especially high for low-income nations, which frequently lack the government funds and resources to efficiently manage waste.
As a result, it's often the world's poor who suffer the worst consequences of global pollution. In fact, the World Bank estimates that 95 percent of people affected by pollution-related illnesses live in middle and low-income nations. It's important to address the global burden of pollution, not only for health-related reasons but also because pollution management offers countless economic benefits. Living in extremely polluted conditions can make everyday activities such as cooking and getting to work unreasonably difficult. Cleaner living conditions bring fewer communicable diseases and better opportunities because they obviate the challenges of contaminated resources.
One Mexican start-up thinks environmentally sustainable housing is one way to improve the living conditions of the world's poor. EcoDomum, or "EcoHome," builds affordable housing in Mexico using building materials made from recycled plastics. Based in Peubla, the company collects, sorts and melts down non-toxic plastics into a liquid form. A hydraulic press then forms the melted plastic into hard panels sturdy enough to construct a house. Each house uses around two tons of plastics and contains two bedrooms, a living room, a kitchen and a bathroom. The whole process takes a week and the price of the finished product is a mere $273. For most Mexican families living below the poverty line on around $125 a month, an EcoDomum is an affordable investment.
EcoDomum has bigger plans than just building houses — they want to stimulate Mexico's economy with sustainable industry. The company has already built 500 recycled homes and has recently partnered with local trash collectors to maintain a steady supply of materials. EcoHome also promises higher wages for plastic collectors, which incentivizes locals to participate in their project. After seeing such a huge success since their start in Mexico, EcoDomum plans to expand their work internationally within the next five years.
– Jessica Levitan
Photo: Flickr
https://borgenproject.org/wp-content/uploads/logo.jpg
0
0
Borgen Project
https://borgenproject.org/wp-content/uploads/logo.jpg
Borgen Project
2016-10-05 01:30:21
2020-06-05 10:46:04
EcoDomum is Reshaping Affordable Housing in Mexico