Doctors Without Borders: An Advocate for the Poor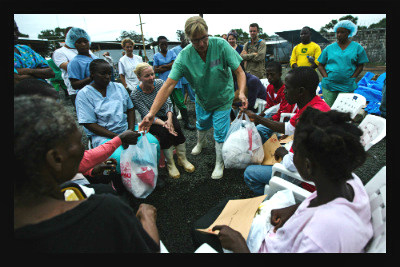 The organization known as Doctors Without Borders or Médecins Sans Frontières (MSF) sustains viable resources for emergency medical attention for the millions of individuals worldwide experiencing crisis in impoverished areas.
Catastrophic events are the focal point of the organization's efforts to aid in the overwhelming demand that health systems receive as a result of the event. These events include epidemics, malnutrition, military conflict and natural disasters. The secondary focus of the organization is to provide care for those who are without healthcare or discriminated against due to their economic status. They aim to assist the people that are in need of advanced and quality health care. Doctors Without Borders or Médecins Sans Frontières (MSF i) stands as a neutral humanitarian organization. There is no desire among the organization's goals to promote the agenda of any government interests, pharmaceutical incentives, country, political party or religious faith.
The mission of their humanitarian action is to save the lives of those suffering from global poverty around the world. They do so by providing medical resources, services and surgical needs for those suffering and ailments of people experiencing acute health issues. In resolving these health issues, the health organization assists in the restoration of health and the ability to be more effective in the individual's life and communities. Doctors without Borders provides medical treatment for over a dozen countries, including the Democratic Republic of Congo, Syria, Haiti, Nigeria, Iraq, South Sudan, Somalia and Jordan, in addition to other countries. In addition, they provide services to refugees and displaced individuals.
Doctors without Borders has over 30,000 medical staff consisting of doctors, nurses, logisticians, water-and-sanitation experts and administrators providing medical care around the world. The number of those treated is abundant. It is estimated that 8.3 million consultations occur annually.
The organization has delivered more than 185,000 babies, as well as provided medical treatment for more than 1.6 million people for Malaria. They have treated nearly 350,000 of severely and moderately malnourished children, and have provided antiretroviral resources for over 284,000 people living with HIV and AIDS. Cumulatively, the organization has performed more than 78,000 surgeries, vaccinated 690,000 individuals against Measles and over 495,000 individuals against Meningitis.
The organization also focuses its efforts toward countries whose communities are riddled with the impact of armed conflict many individuals become victims through injuries, sexual violence and detrimental wounds. Many times during this turmoil, medical treatments are not available or individuals are simply denied the treatment so desperately needed. The response to conflicts have health consequences, therefore it is necessary to respond with care, determination, speed, focus and the ability to adapt in order to deliver the necessary medical care and treatment to those most in need.
To supplement the medical treatment services, the organization runs vaccination campaigns, design campaigns to introduce clean water systems as well as health clinics in impoverished areas. In extreme cases, they also provide resources for acute survival by providing basic supplies. Doctors without Borders consciously supports efforts to treat diseases that affect the impoverished populations.
Doctors Without Borders continues to serve as an effective advocate for access to healthcare around the world in order to improve access to essential medicines and healthcare in impoverished areas.
– Erika Wright
Sources: Time, Doctors Without Borders
Photo: Flickr
https://borgenproject.org/wp-content/uploads/The_Borgen_Project_Logo_small.jpg
0
0
Borgen Project
https://borgenproject.org/wp-content/uploads/The_Borgen_Project_Logo_small.jpg
Borgen Project
2015-05-31 12:00:21
2020-07-17 21:14:25
Doctors Without Borders: An Advocate for the Poor