Deafness in Sub-Saharan Africa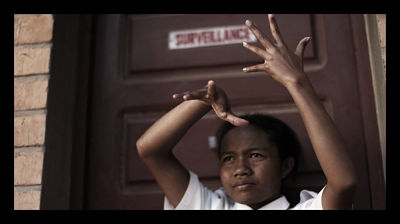 The Deaf in sub-Saharan Africa face a unique set of challenges. They tend to be isolated from society in ways that people with hearing struggle to understand, and they are often seen as burdensome or even as a bad omen for their families. Education for the Deaf in sub-Saharan Africa is severely lacking, and they are often denied the opportunity to live independent and fulfilling lives. The concept of Deaf culture, in which deafness can be seen as a neutral or even positive trait, has yet to take root in most African societies. However, in some countries, exciting progress is being made.
Andrew Foster (1927-1987) is often considered the father of deaf education in Africa. After becoming the first African American to graduate from Gallaudet College, the preeminent school for the deaf, Foster founded the Christian Mission for Deaf Africans in the United States in 1956. A visit to Accra, Ghana the following year inspired him to found a school for the deaf in Ghana. Foster highly emphasized the importance of sign language, rather than forcing deaf children to communicate using only oral speech, as theory known as Foster's Total Communication philosophy.
Throughout his adult life he founded 31 schools in 17 African countries where deaf children could be educated and empowered. Many of these students returned to their home villages and educated other deaf children, spreading the message that deaf children can and should be educated.
Today, education for the Deaf in most sub-Saharan African countries is sub-par at best. In societies where primary education is not yet universal, priority is given to general education that benefits more children. Programs are usually run by non-governmental organizations, often resulting in a lack of oversight and regulation. Teachers are usually not deaf and often lack the skills necessary to teach deaf children. Funds are often low, so textbooks and other school supplies are often in short supply. Perhaps most problematically, there is generally no expectation that deaf children will continue past primary school.
No sub-Saharan African country has reliable data concerning its deaf population. Instead, they often end up disappearing from school systems, workplaces, and society in general simply because they cannot hear.
Lack of skilled medical care exacerbates the problem, resulting in a lack of early identification and investigation. It is also generally assumed that deafness rates in developing countries are higher due to limited treatment options, malnutrition, and chronic illnesses that affect hearing. It should also be noted that in more affluent societies there are many hard of hearing children who can function as fairly easily. These children are usually provided with hearing aids, but most families in the developing world cannot afford them.
Cultural attitudes also contribute to the lack of urgency when it comes to deaf children's education. While sub-Saharan Africa is incredibly diverse and there are clearly exceptions for every trend, there are some harmful stereotypes about the Deaf that are common in many countries. Some see deafness as an act of fate or a sign of God's punishment. Deaf children are often hidden because they are considered a source of familial shame. They may also be pitied and seen as burdensome and helpless, which can result in abuse such as sexual violence towards deaf women.
These negative attitudes generally increase the isolation of deaf children and feed into the stigmatization of deafness. Governmental policies that fail to protect the Deaf from discrimination, as well as derogatory language similar to the English phrase "deaf and dumb", are manifestations of this stigmatization.
In the face of the clear inequity suffered by the Deaf in sub-Saharan Africa, it is encouraging to recognize the progress being made. Four sub-Saharan African countries (Zimbabwe, Botswana, South Africa, and Uganda) have prohibited discrimination against people with disabilities. Additionally, Deaf culture is gaining headway. Uganda is one of just a few countries worldwide to have officially recognized a sign language in its constitution and there are currently two journals focusing on Africans with disabilities. Deaf Link Uganda, a non-profit founded in 2007, is currently working to empower deaf individuals in Uganda by creating Deaf communities and providing education and job training, as well as work opportunities. Educational opportunities for the Deaf, including primary schools and beyond, are increasing, especially in Nigeria.
These positive developments reflect a changing culture. Deafness in sub-Saharan Africa is becoming more accepted and supported. Such progress is sorely and urgently needed, making it all the more exciting to witness.
– Katie Fullerton
Sources: Project Muse, Deaf Link Uganda
Photo: Commission Stories
https://borgenproject.org/wp-content/uploads/logo.jpg
0
0
Borgen Project
https://borgenproject.org/wp-content/uploads/logo.jpg
Borgen Project
2013-08-06 06:11:14
2017-03-20 13:03:59
Deafness in Sub-Saharan Africa