Conditions Poor in Syrian Refugee Camps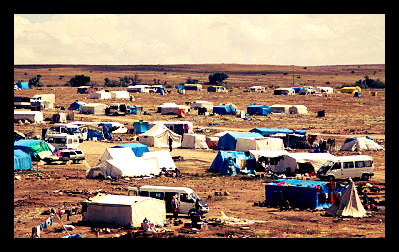 What was supposed to be a safe haven for Palestinians has now become another war zone. A total of 18,000 refugees are being held hostage in the Yarmouk camp in Syria. The Syrian refugee camp located in southern Damascus has been taken over by ISIS and the group Al-Nursa Front, known for its affiliation with Al-Qaeda.
According to the United Nations, the camp was already low on essentials such as food, water, and medicine. According to Chris Gunness, a spokesman for the United Nations, attempts to deliver food have failed. "That means that there is no food, there is no water and there is very little medicine," said Gunness."The situation in the camp is beyond inhumane. People are holed up in their houses, there is fighting going on in the streets. There are reports of … bombardments. This has to stop and civilians must be evacuated."
Adding to the devastation is the constant violence the people of the camp must face. Dr. Saeb Erekat, and Executive Committee Member of the Palestine Liberation Organization, has reported that there are "kidnappings, beheadings and mass killings" being carried out at the camp. Bombs have also been dropped on the camp.
Yarmouk, which was formed in 1957 for refugees in the Arab-Israeli conflict, are no strangers to dire situations—illness and starvation were already prevalent amongst the camp, which has been under government control since December of 2012. However, the damage being carried out now could be the worst the camp has seen yet.
"Never has the hour been more desperate in the Palestine refugee camp of Yarmouk," said the United Nations Relief and Works Agency in statement.
The United Nations is vocalizing the need for liberation or at least humanitarian aid where those suffering can receive food, water and proper medical attention.
"The levels of humanity that we have seen have now descended into further levels of inhumanity," insisted Gunness. Hopefully, the United Nations and other humanitarian groups will continue to fight for the lives of those who are victims to this horrible conflict.
– Melissa Binns
https://borgenproject.org/wp-content/uploads/logo.jpg
0
0
Borgen Project
https://borgenproject.org/wp-content/uploads/logo.jpg
Borgen Project
2015-04-16 04:00:36
2020-06-25 16:24:19
Conditions Poor in Syrian Refugee Camps