Feedie and the Lunchbox Fund Fight Childhood Hunger in South Africa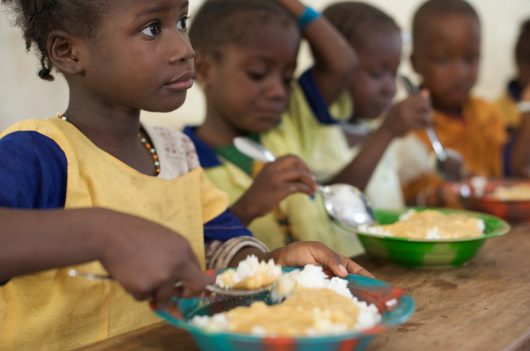 According to the Lunchbox Fund, 12 million South African children under the age of six are living below the poverty line. Unsurprisingly, this means that a fifth of households in South Africa experience continual hunger.
This has daunting consequences. Lack of adequate nutrition can cause growth stunting. In fact, 27 percent of children under the age of five have stunted growth in South Africa. In many cases this is irreversible. Malnutrition causes not only physical damage but mental deterioration as well. It negatively affects children's learning ability and capacity to concentrate. When the top priority of a household is to fulfill hunger, and it struggles in doing so, the importance of school drops to a negligible level.
An app and a nonprofit have partnered to fight this problem and reduce childhood hunger in South Africa.
Feedie
Feedie is an app that allows food lovers to share photos of their meals on social media pages. However, this is not just any food photography app. It allows foodies to take their love of photographing food to a humanitarian level.
With the app, people can upload photos of their meals at participating restaurants, and that restaurant will donate 25 cents to the Lunchbox Fund, which provides lunches for impoverished South African schoolchildren. There are approximately 100 participating restaurants, including Del Posto, The Spotted Pig and La Esquina in New York.
The Lunchbox Fund
The Lunchbox Fund is a nonprofit that focuses on childhood hunger in South Africa. They work to provide a daily nutritious meal to orphaned and poor school children in townships and rural communities in South Africa. They believe that food insecurity should not inhibit children from achieving a basic human right: going to school.
The Lunchbox Fund has created a menu revolving around nutritious foods that children love, including maize, rice, lentils, beans, samp, gravy, soya mince, porridge, soy milk, 100 percent juice, peanut butter and vegetables. These meals have been approved by the Nutrition Information Centre at the University of Stellenbosch, ensuring that they contain adequate amounts of macronutrients and micronutrients that are essential to healthy brain and body development.
They work in all nine provinces and are dedicated to providing daily lunch meals to schoolchildren yearly. The Lunchbox Fund has calculated that 4,719,480 meals are necessary to feed vulnerable children in all provinces. They aim to reach four million children that do not receive government food subsidies at school.
Successes and Donations
The Lunchbox Fund has been feeding children since 2005. Since its birth, it has served an impressive 14.4 million meals. Just in 2017, 4.9 million meals were served. Even more astounding is that 25,000 children receive meals every day.
Schools that have nutrition programs tend to see higher academic achievement among students. Attendance and academic retention increases when children can focus and look forward to eating a fulfilling meal. Schools partnered with the Lunchbox Fund can expect to experience these trends.
Every cent that is donated goes toward fighting childhood hunger in South Africa. Impressively, if the average amount of money that Americans spend weekly on groceries ($151) were donated, it would feed three students for an entire year. This illustrates the huge impact that an inexpensive meal can have on a child's health and education. The success of the Lunchbox Fund can serve as a model to help children at risk of hunger all over the world.
– Mary McCarthy
Photo: Flickr
https://borgenproject.org/wp-content/uploads/logo.jpg
0
0
Borgen Project
https://borgenproject.org/wp-content/uploads/logo.jpg
Borgen Project
2018-03-01 07:30:32
2019-11-05 23:29:04
Feedie and the Lunchbox Fund Fight Childhood Hunger in South Africa