Can This Straw Save the World?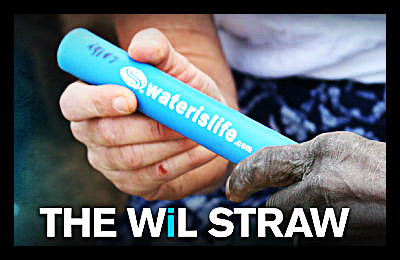 Water is Life founder Ken Surritte was on a well-drilling trip to Africa in 2007 when he realized the limitations of using this method of providing clean water alone. After building a well for an orphanage outside of Kisumu, Kenya, Surritte was surprised to find that kids were still getting sick. The culprit was a "drinking fountain" at the local school which was actually a stagnant pond. Surritte wondered what he could give kids to take to school with them, and the idea for a portable filtration straw was born.
884 million people around the world do not have access to clean water, resulting in 6,500 deaths from waterborne diseases like typhoid, cholera, dysentery, E-coli, guinea worms, and diarrhea every day.  Children under five are at the greatest risk. In fact, diarrhea is the second leading cause of death among this age group in the world, and a child dies every 21 seconds from this preventable disease.
Water is Life is a nonprofit that works to distribute its WiL filtration straws to communities in need across the world. The straws, which are made of a hard plastic and measure ten inches long and one inch in diameter, come on a lanyard for easy transport. The straws use a combination of membrane filters, iodine crystals, and charcoal filters to purify water, filtering out harmful waterborne illnesses and particles as small as 15 microns. The WiL straws work just like an ordinary straw: users place the straw in a water source and suck, drawing water through the filtration components until clean water reaches the mouth. They can clean a minimum of 800 liters of water, and on average, a straw will last one person a year. The straws clog internally when no longer effective. These life saving devices cost only ten dollars each.
The WiL straw is just the first part of a comprehensive plan to provide sustainable clean-water solutions to communities around the world, and is meant to provide immediate relief to communities while longer-term solutions are sought. After straws are distributed by Water is Life teams on the ground, the teams get to work evaluating and developing a plan to provide a sustainable, pure water source within one year, using technologies like wells and point-of-use filters. Teams also provide hygiene and sanitation education in community centers and village schools. This unique "crawl, walk, run" approach allows for immediate intervention and long-term prevention of waterborne illnesses, saving lives now and in the future.
Water is Life has been hugely successful in the four short years since it began distribution of straws and implementation of its sanitation programs. The non-profit has worked in North and South America, Asia, and the Middle East, distributing over 60,000 straws in 32 countries, and has plans to grow the program.
For those looking to get involved, Water is Life provides many volunteer opportunities for individuals and groups, ranging from speaking at schools to get students involved with campaigns, to repackaging filters at the organization's Oklahoma office, to traveling to help distribute WiL straws and other life-saving materials on the ground. Have the money, but not the time? Just ten dollars provides someone in need with immediate and long-term access to clean drinking water. Check out waterislife.com for more ways to help.
– Sarah Morrison
Sources: Water is Life, Oklahoma City News
Photo: Seasons for Life
https://borgenproject.org/wp-content/uploads/logo.jpg
0
0
Borgen Project
https://borgenproject.org/wp-content/uploads/logo.jpg
Borgen Project
2013-12-06 18:08:16
2016-12-11 19:31:21
Can This Straw Save the World?