Breaking Down Cultural Barriers to Girls' Education in Yemen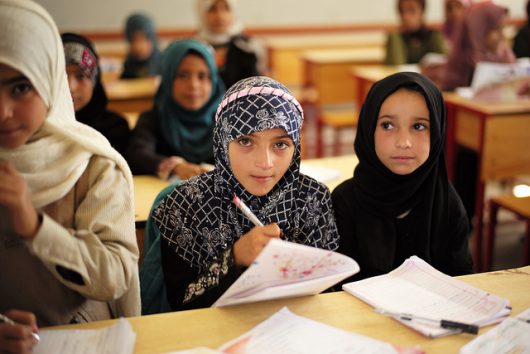 Located on the southern tip of the Arabian Peninsula, Yemen is considered one of the least developed countries in the Middle East, according to the Human Development Index. While poverty and political turmoil are some of the key factors that contribute to this categorization, one of the major issues that hinder Yemen's socioeconomic progress is a gender disparity in the education sector.
In the 2017 Global Gender Gap Report by the World Economic Forum, Yemen ranked 141st out of 144 countries in terms of gender disparity in educational attainment. The lack of economic participation, political representation, educational parity, healthcare access and liberty that demonstrate this gap can all be to a great extent traced to the condition of girls' education in Yemen. There are several factors that influence girls' education in Yemen, and they can be grouped into two main categories.
Economic and Political Factors in Yemen
Yemen has been suffering from political instability and civil wars since 2014, thus impacting an economy that is continuously shrinking. The collapse of the banking system, lack of employment, the depreciating value of the rial and inflation have led to an appalling economic situation in the country. Amid such economic uncertainty and poverty, most families are discouraged from sending their children, especially girls, to school. Some families also marry off their daughters early to alleviate the extra financial burden. This, in turn, leads to no education or extremely high dropout rates among female students. The other result of these economic and political factors that also affects girls' education in Yemen is the scarcity of proper classrooms and educational infrastructure.
Sociocultural Factors Impact Girls' Education
Conservative social and religious customs in Yemen discourage girls from attending mixed-gender classrooms or being taught by male teachers. Families generally prefer female teachers for their daughters. However, with 24 percent of the female population illiterate, it becomes challenging to find a female teaching staff. The shortage of female teachers in rural areas is much more pronounced than in urban areas. Therefore, it is not uncommon to find girls dropping out of school at the primary or secondary level.
Another important sociocultural factor that affects girls' education in Yemen is underage marriage. The United Nations Population Fund has observed that the rate of child marriage in Yemen has risen from 52 percent of girls marrying under age 18 in 2016 to 66 percent in 2017. Patriarchal customs, child marriage and household chores prevent many girls from attending or completing school.
Despite these challenges to girls' education in Yemen, significant attempts are being made by the Yemeni government and international bodies to educate more girls in Yemen and bridge the gender disparity in the education sector.
Ministry of Education Works to Improve Girls' Education in Yemen
In 2007, the Yemeni government, with the aid of IDA (The World Bank's Fund for the Poorest Countries), trained 550 female teachers, 525 of whom received certification. Other projects like the Basic Development Project for Yemen (2004-2012) attempted to increase enrollment of children in basic education and enhance the quality of teaching in schools.
From 2013 to 2017, the Second Basic Education Development Project for Yemen worked towards improving the quality of basic education and the enrollment rates of girl students in schools, while simultaneously assisting the Ministry of Education in carrying out educational improvements.
The provision for conditional cash transfers (or stipends) to disadvantaged families in certain governorates from 2004 to 2012 encouraged many families to send their daughters to school. At present, Yemen receives financial grants from the Global Partnership for Education to develop its basic education sector.
The IDA, in partnership with the United Kingdom, the Netherlands and Germany, has funded the Basic and Secondary Education Development Project and the Girls Access Project. USAID has also been working in Yemen to create safe educational infrastructure for females students, renovating and refurbishing schools and helping the government improve teaching methods in primary schools.
The educational gender disparity in Yemen has not yet been resolved, but through consistent efforts in improving educational infrastructure and quality, female educational campaigns, increasing the number of female educators, lowering costs of education and providing stipends, Yemen can significantly improve its social, cultural and economic status and remove many of the barriers that prevent girls from getting an education.
 – Jayendrina Singha Ray
Photo: Flickr
https://borgenproject.org/wp-content/uploads/logo.jpg
0
0
Borgen Project
https://borgenproject.org/wp-content/uploads/logo.jpg
Borgen Project
2018-06-10 07:30:00
2019-10-13 17:45:44
Breaking Down Cultural Barriers to Girls' Education in Yemen