How Bras Helped Human Trafficking Survivors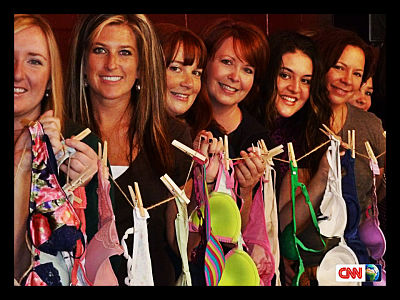 It was in 2010 when Emmy-award winning TV producer Kimba Langas partnered up with pastor and social entrepreneur Dave Terpstra to make a difference.
Dave had moved to Mozambique with his family to help rehabilitate women who were survivors of sex trafficking. He wanted to help the women find jobs in order to ensure themselves a sustainable income, thereby lessening their vulnerability. Trafficking is all about vulnerability, he explains; people who are desperate to work and make money are taken advantage of.
"He found his answer in the bustling used clothing markets of Mozambique," writes CNN producer Lisa Cohen.
Selling bras seems like a unique, new and interesting idea, but it wasn't based on a random decision. Dave noticed that these women could make a profit that was higher than the minimum wage by selling second-hand clothing, and bras are well-demanded. He went on to team up with Kimba Langas to address this idea, and they created the Free the Girls charity, which collected bra donations from all over the U.S.
Langas created a Facebook page to publicize the start-up fundraiser, and the bras started pouring in. She explains that a majority of women have a large collection of bras that don't fit well anymore or bras that are not being used anymore. However, after a few months, Langas ran into a new issue concerning the 20,000+ bras she had been sent – the shipping alone would have cost her $6,500, well outside her budget for the project.
"That's when the story was featured on CNN, and everything changed."
Paul Jarzombek, Director of Operations at LR International, reached out to Langas since he has a shipping company in Chicago. A domino effect of kindness then occurred as a truck driver, Rick Youngquist, offered to deliver the bras from Denver to Chicago.
Rick had recently joined an organization called Truckers Against Trafficking where truck drivers learn about how to spot and respond to signs of human trafficking on the road. Although it took three months, the bras did eventually reach Maputo, the capital of Mozambique.
According to Lisa Cohen, the success of this bra charity led the Free the Girls organization to target other places within Africa and beyond. For now, women survivors in Mozambique express their gratitude. One survivor has said, "I just want to tell the people in America, they've given us the strength we needed. Thank you very much."
And that is how bras helped human trafficking survivors; anything is possible.
– Leen Abdallah
Source: CNN Freedom Project
https://borgenproject.org/wp-content/uploads/logo.jpg
0
0
Borgen Project
https://borgenproject.org/wp-content/uploads/logo.jpg
Borgen Project
2013-02-17 16:35:09
2020-04-10 17:48:22
How Bras Helped Human Trafficking Survivors