Ales Belyatsky Released from Prison Early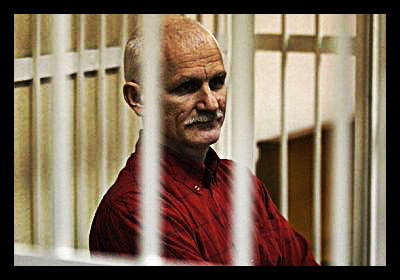 Leading Belarus human rights activist, Ales Belyatsky, was released early from prison this week after only serving three of a four-and-a-half year sentence for tax evasion. Belyatsky, who ran the rights group Vesna-96, was arrested for an alleged tax evasion after officials in Poland and Lithuania unwittingly supplied information regarding information in his bank accounts. Belarus, which imposes strict restrictions on the financing of NGOs, rules out virtually any financial help from abroad.
Yet Belyatsky, whose arrest was deemed "politically motivated," never pleaded guilty for his alleged crimes, and attributed the funds in the bank account to years of supporting victims of human rights abuses in Belarus. In fact, there are at least seven other human rights activists in Belarus currently imprisoned, and while Belyatsky has been released early, many attribute his release to internal–and external–pressure toward the regime. The United States, among other countries, has commended Belyatsky's release and urged Belarus to do the same for the rest of their prisoners.
Belyatsky claims he still feels part of the system, and while his release was unexpected, he has remained vigilant against the Belarusian regime. The regime, which has kept a tight authoritative control over the years, has consistently worked to eliminate human rights groups, squandering their political rights. While Belaytsky's release may be seen from the West as a sign of improvement, those from the country fear this may be a political move to ensure a renewal of dialogue with the European Nation.
Despite his stint in prison, Belyatsky does not regret his activism. "I am not sorry for those three years spent in prison," he said. "This is the price you pay for making Belarus a free and democratic country." Belyatsky hopes other human rights prisoners, who often face extreme measures of psychological abuse under imprisonment, will be granted the right to follow suit.
– Nick Magnanti
Sources: KyivPost, Reuters, Charter97, Index on Censorship
Photo: Ozera
https://borgenproject.org/wp-content/uploads/logo.jpg
0
0
Borgen Project
https://borgenproject.org/wp-content/uploads/logo.jpg
Borgen Project
2014-06-26 18:45:22
2017-10-31 09:03:03
Ales Belyatsky Released from Prison Early