Albert Pujols Helping the Poor in the Dominican Republic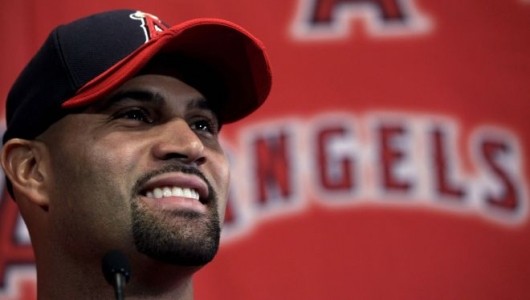 Albert Pujols is a successful professional baseball player who has won many baseball accolades. He is a two-time World Series champion, three-time National League MVP and nine-time National League All-Star who has won, among other things, National League Rookie of the Year and National League Gold Glove for first base.
But his work is not limited to baseball; he is also giving back to those in need in his native Dominican Republic.
Pujols, who was formerly with the St. Louis Cardinals and is currently playing for the Los Angeles Angels, began the Pujols Family Foundation (PFF) as a way to give back to those around him.
PFF works in two main areas: in the U.S. for those with Down Syndrome, including his daughter, and in the Dominican Republic for those that live in poverty.
The Dominican Republic's population is over 10 million and the World Bank classifies the country as upper-middle class. Even so, there are millions of people living in slums and "bateys."
"Bateys" are villages made of shacks and dirt roads. They are near sugar cane plantations, which is where those living in the bateys typically work. Children leave school at a young age to help their parents in the fields cutting sugar cane. The workers get paid by the pound of sugar cane cut, not by the amount of time spent in the field.
PFF works to bring educational opportunities, medical care, and basic necessities to the people living in poverty.
The foundation's work includes:
Full medical mission teams in seven bateys, teams that have "medical doctors, dentists, optometrists, pediatricians and a full pharmacy" (PFF).
A baseball league for young boys that includes mentorship alongside the sport to build them into strong men, fathers, and leaders.
The Pa'Lante program, which teaches women trades and skills that can be used for employment away from the batey.
Project Sound Asleep, "where [PFF] provide[s] new, clean, dry bedding for people to sleep" (PFF).
How can one help this great organization? PFF is a nonprofit foundation that relies on individual donations for support. Their website lists lots of ways to help out, but two unique ways are directly related to Pujols and his work on the baseball field.
PFF is an active charity on FantasyHub. By playing fantasy sports and linking to PFF, one can donate a portion of any winnings to the foundation and its work.
Alternatively, one can make a Home Run Pledge linking one's personal giving to the number of home runs Pujols hits. As of the end of June, Pujols has hit 23 home runs for the Angels. A potential donor can look at the stat box and follow a great ball player while pledging to help those in need.
PFF has helped many people at home and abroad. Their work with those with Down Syndrome is exemplary, and the fact that PFF goes back to the Dominican Republic and actively works to improve the lives of those in poverty is inspiring.
So much good can happen when people use their influence and resources to help better the lives of the economically disadvantaged as Albert Pujols does.
– Megan Ivy
Sources: Fox News Latino, Huffington Post, MLB, Pujols Family Foundation, WHO
https://borgenproject.org/wp-content/uploads/logo.jpg
0
0
Borgen Project
https://borgenproject.org/wp-content/uploads/logo.jpg
Borgen Project
2015-07-02 15:24:51
2020-07-14 09:29:53
Albert Pujols Helping the Poor in the Dominican Republic