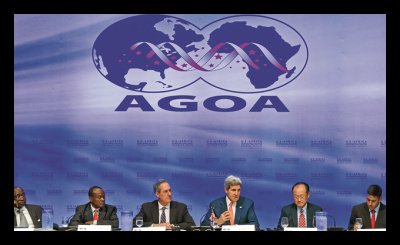 In 2000, the United States Congress approved legislation entitled the African Growth and Opportunity Act, or AGOA, in hopes to better economic relations between the United States and sub-Saharan Africa. The legislation highlights key factors in trade between the U.S. and sub-Saharan Africa while providing many benefits.
The act was initially set to expire in 2008, but President George W. Bush signed the AGOA Acceleration Act of 2004, which extended AGOA to 2015. The Act's apparel special provision, which permits lesser-developed countries to use foreign fabric for their garment exports, was to expire in September 2007.
However, legislation passed by Congress in December 2006 extended it through 2012.
The legislation authorized the President of the United States to determine which sub-Saharan African countries would be eligible for AGOA on an annual basis. The eligibility criteria was to improve labor rights and movement toward a market-based economy. Each year, the president evaluates the sub-Saharan African countries and determines which countries should remain eligible.
Currently, there are 44 African countries eligible with AGOA.
What are the benefits of AGOA for African countries?
AGOA provides trade preferences for quota and duty-free entry into the United States for certain goods, expanding the benefits under the Generalized System of Preferences, or GSP, program.
AGOA expanded market access for textile and apparel goods into the United States for eligible countries, though many other goods are also included. This resulted in the growth of an apparel industry in southern Africa, and created hundreds of thousands of jobs.
In addition to growth in the textile and apparel industry, some AGOA countries have begun to export new products to the United States, such as cut flowers, horticultural products, automotives and steel.
;Agricultural products is a promising area for AGOA trade; however, much work needs to be done to assist African countries in meeting U.S. sanitary and phytosanitary standards.
What are the benefits of AGOA for US firms?
By creating tangible incentives for African countries to implement economic and commercial reform policies, AGOA contributes to better market opportunities and stronger commercial partners in Africa for U.S. companies. The Act strengthens commercial ties between Africa and the United States, while it helps to integrate Africa into the global economy.
U.S. firms may find new opportunities in privatizations of African state-owned enterprises or in partnership with African companies in infrastructure projects.
– Alaina Grote
Sources: AGOA, International Trade Administration
Photo: Financial Mail
https://borgenproject.org/wp-content/uploads/The_Borgen_Project_Logo_small.jpg
0
0
Borgen Project
https://borgenproject.org/wp-content/uploads/The_Borgen_Project_Logo_small.jpg
Borgen Project
2015-03-16 04:00:38
2018-04-23 10:37:48
AGOA: Strengthening Economic Relations