5 Facts about Child Soldiers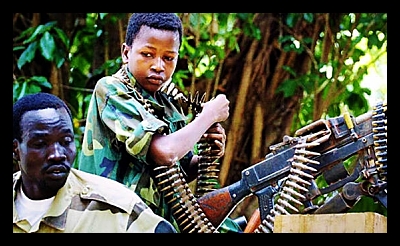 The subject of many a documentary, news report, and even novel, the figure of the child soldier emerged onto the global stage in the late 20th century, largely the result of publicized conflicts in places like Uganda and the Democratic Republic of Congo.  The heartbreaking and sometimes frightening images of children—almost all of them African boys—turned into violent killers captured the attention of many in the west.  Like most images, these tell only a part of the story.  Here are five important and sobering facts about child soldiers.
1. Not all child soldiers are African. The organization Child Soldiers International reports that "since 2000, the participation of these soldiers has been reported in most armed conflicts and in almost every region of the world." No exact figures have been compiled, but some estimates put the number at 250,000 child soldiers currently fighting in conflicts around the world. Countries, where child soldiers can be found, include Afghanistan, Burma, Iraq, the Philippines, Colombia, Thailand, India, Somalia, and Yemen.
2. They do more than just fight. Child soldiers not only fight on the front lines, but they also serve as runners, spies, and in some cases human shields. Many of them are also sexually abused and exploited.
3. Not all child soldiers are boys. Girls under 18 are often recruited or captured during conflicts, and most of the time they suffer sexual abuse and exploitation. An estimated 40% of them are girls.
4. They are both recruited and forced into serving. Many soldiers are violently kidnapped and forced to serve in armies or in opposition groups.  Some, however, are drawn in because poverty and deprivation leave them vulnerable to the promise of money, food, and clothing if they take up arms. Desperation proves to be a powerful motivating force for some children.
5. They can be and have been rehabilitated. Despite the horrors they have suffered and in many cases committed, these soldiers are children forced or lured into war. Many organizations around the globe work to provide the therapy, medical attention, and education that these children need. Hundreds of former soldiers have benefited from this kind of care and been reunited with family members and loved ones.
– Délice Williams
Sources: Child Soldiers.org, Peace Direct USA
Photo: MW
https://borgenproject.org/wp-content/uploads/logo.jpg
0
0
Borgen Project
https://borgenproject.org/wp-content/uploads/logo.jpg
Borgen Project
2013-07-03 16:25:37
2021-12-14 01:28:21
5 Facts about Child Soldiers