5 Anti-Poverty Organizations with Opportunities for Students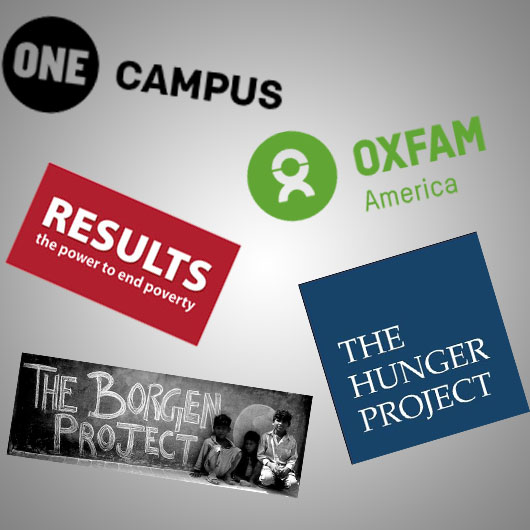 Some say college is the best four years of your life; these anti-poverty organizations are helping to make them some of the most meaningful as well. While some groups only offer internships at their headquarters, here are some anti-poverty organizations with either on-campus opportunities, remote or summer training or volunteer opportunities. These opportunities offer advocacy and leadership experience for college students hoping to raise awareness of global poverty on their own campus.
1. ONE
According to its website, "ONE is an international campaigning and advocacy organization of nearly 7 million taking action to end extreme poverty and preventable disease, particularly in Africa." There are campus clubs for ONE on campuses across the country. Online, ONE offers resources, ideas and challenges for their student-run campus clubs. For more information, visit its website.
2. Oxfam
Oxfam's mission is "to create lasting solutions to poverty, hunger, and social injustice." For college students, Oxfam offers the opportunity to create and sustain an Oxfam club on campus, as well as a training program one must be selected to attend. Oxfam currently has clubs on more than 100 college campuses. To start a club on campus, you can download a "toolkit" from the website and register your university's club with the organization. Oxfam's leadership training program, CHANGE, trains 50 students each summer on nonprofit organizations, advocacy and more.
3. RESULTS
RESULTS is a grassroots advocacy group. It is written on its website that "with every hour of their time, volunteers multiply their impact through the enormous power of advocacy—whether it's helping change policty to support millions of families putting food on the table or helping raise billions of dollars for the world's most vulnerable children." RESULTS offers a variety of ways for individuals across the country to get involved. You can listen in on a call where the staff discusses the work of the organization, tips for your own advocacy and how to get involved. Online you can learn about the different RESULTS groups in your area and connect with other people interested in ending poverty. These groups allow people to make an impact in their area by joining together, reaching out to state legislators and planning advocacy events. For more information about how you can get involved visit its website.
4. The Hunger Project
The mission of The Hunger Project is "to end hunger and poverty by pioneering sustainable, grassroots, women-centered strategies and advocating for their widespread adoption throughout the world." Individuals interested can volunteer bi-annually in The Hunger Project's global office in New York. Online, volunteer opportunities are posted as available, and those interested in being volunteer activists must follow the steps listed in the "get involved tab" under the "volunteer" section of The Hunger Project's website.
5. The Borgen Project
The Borgen Project aims to raise awareness of global poverty and the issues that it creates. Through advocacy and campaigning, The Borgen Project forces the nation's leaders to take notice of this global issue and encourages action to address it in U.S. foreign policy. The Borgen Project not only has volunteer and internship positions in Seattle and remotely, but also provides advocacy tips on its website.
– Rachelle Kredentser
Sources: ONE, ,Oxfam, RESULTS, The Hunger Project, The Borgen Project
https://borgenproject.org/wp-content/uploads/logo.jpg
0
0
Borgen Project
https://borgenproject.org/wp-content/uploads/logo.jpg
Borgen Project
2015-07-21 14:42:14
2020-07-08 14:43:53
5 Anti-Poverty Organizations with Opportunities for Students