5 Global Poverty Infographics Show 2015 Progress
Global poverty is not "too big" to fix but it won't be solved overnight. Progress is attainable and 2015 was a landmark year in many ways. New data revealed historical progress was achieved, innovative development strategies were pursued and the fight against global poverty continued.
While global poverty persists in 2016, these five global poverty infographics show what the fight looked like last year, how far the global community has come and the importance of continuing the fight this year.
Infographic #1: For the first time, fewer than 10 percent of people in the world were living in extreme poverty.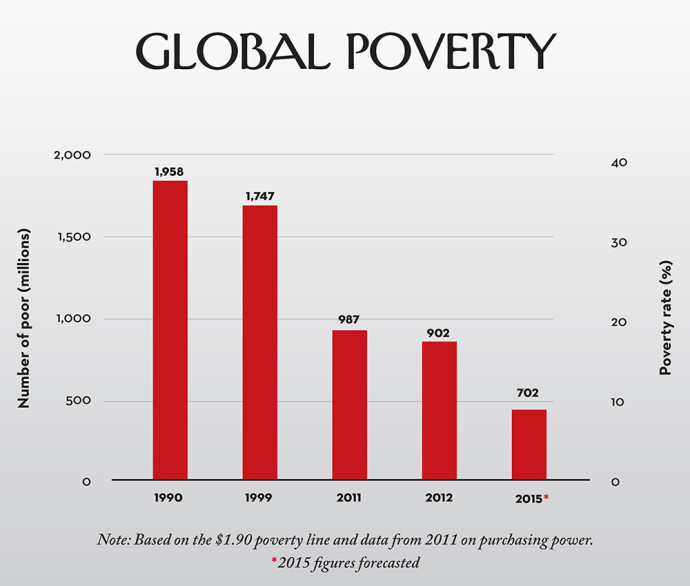 Making headlines, the World Bank measured extreme poverty at its lowest level ever. Rising prosperity in countries such as China and India contributed to the reduction. The decrease is also considered a success for the U.N.'s Millennium Development Goals (MDGs), the first of which aimed to cut poverty rates in half between 1990 and 2015.
Infographic #2: What are the SDGs about?

While 2015 was the target year for the MDGs, it also kicked off the Sustainable Development Goals (SDGs). Taking stock, the international community assessed, applauded and reconsidered what the MDGs accomplished and didn't. Now, the SDGs aim to carry that momentum forward.
Infographic #3: The 2015 Data Report: Putting the Poorest First.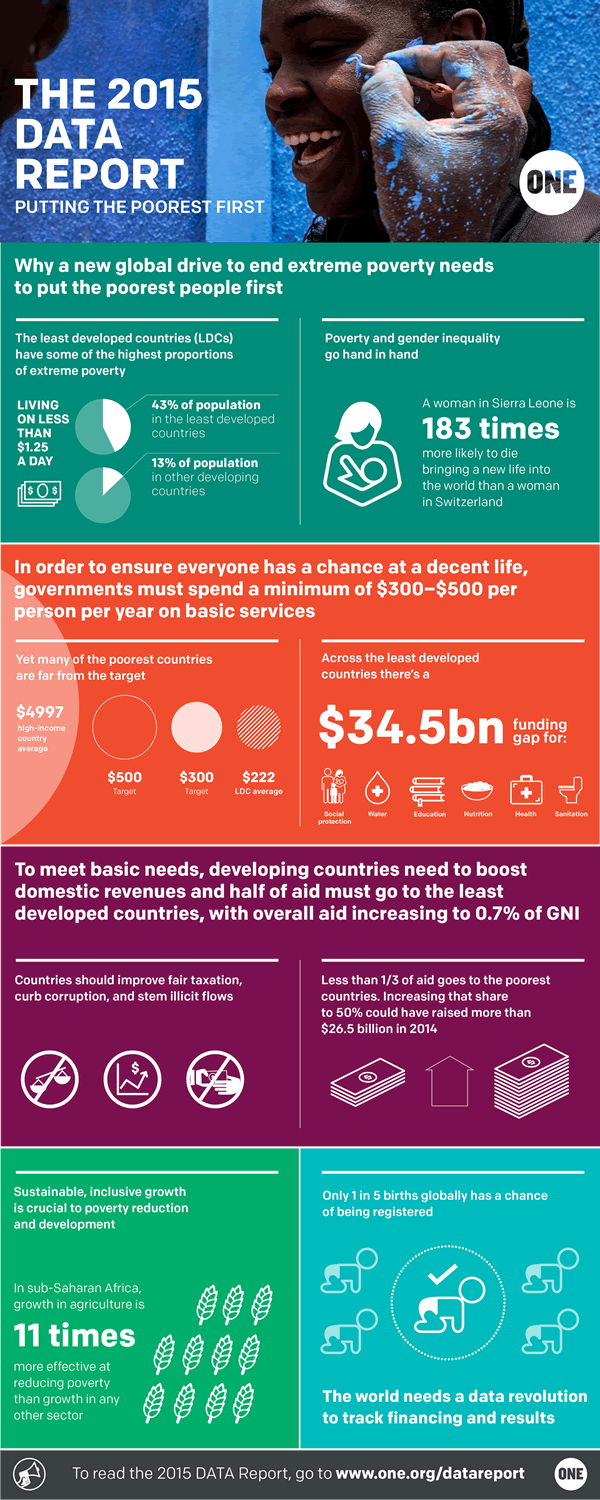 Data was center stage in 2015 and will continue to be this year. Increased access to data throughout the world has helped aid organizations better understand the dynamics of global poverty. The ONE campaign compiled their data into the 2015 report and advocated for providing aid to the least developed countries first.
Infographic #4: Why invest in women?



USAID is targeting female populations to maximize the impact of aid and investment. In addition to advocating for gender equality, numerous governments and NGOs have observed women multiplying the benefits they receive and uplifting the greater community.
Infographic #5: Managing the impacts of climate change on global poverty. 

These global poverty infographics show that despite success in reducing global poverty rates, the future holds more challenges and uncertainties, such as climate change. In the lead-up to the UN Climate Change Conference, the World Bank raised awareness that climate change may ultimately increase poverty rates. To mitigate this, the World Bank and other organizations began calling for sustainable, "climate-smart" development to ensure poverty reduction continues.
– Cara Kuhlman
Sources: The New Yorker, EurActiv, ONE, USAID, World Bank

https://borgenproject.org/wp-content/uploads/logo.jpg
0
0
Borgen Project
https://borgenproject.org/wp-content/uploads/logo.jpg
Borgen Project
2016-02-18 01:30:28
2020-06-23 13:19:34
5 Global Poverty Infographics Show 2015 Progress