10 Years of Helping Babies Breathe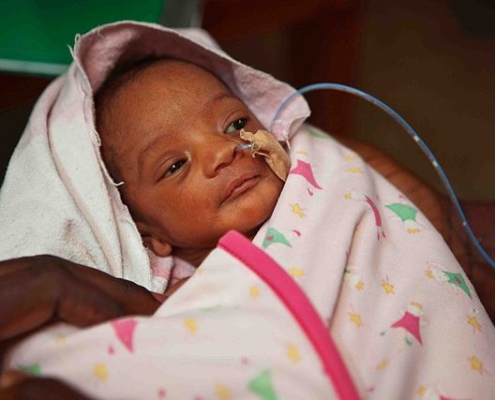 The first few minutes of a baby's life have a significant impact on their chances of survival and their life quality. Statistically speaking, risks for newborn deaths are at their highest at that time. A main reason for the increased risk is asphyxia, a dangerous lack of oxygen right after birth. Every year, approximately 10 million newborns are unable to breathe on their own and require immediate help. In 2010, as a response to the medical issue, Helping Babies Breathe (HBB) was born. Recently, Helping Babies Breathe celebrated its anniversary for 10 years of work. Here is some information about the successes during the 10 years of Helping Babies Breathe.
USAID: An Important Partner
A partnership of many different agencies and organizations like Save the Children, Laerdal Global Health and the World Health Organization (WHO) launched the program Helping Babies Breathe. Another very important partner in the creation of HBB was the United States government's agency USAID. After receiving Congress-approved funds from the federal government, USAID was able to be a key figure in establishing the program. The agency contributed significantly to HBB's success by mobilizing more than $120 million to save newborns over the last decade.
Educating People
When HBB launched, its approach to fighting newborn mortality was based on creating a global movement. The goal was to raise awareness for the complications of asphyxia and to educate and train medics around the world. Thus, HBB focused on making educational materials and necessary equipment accessible for everyone. Furthermore, it supported training people in the resuscitation of newborns. When the program began, all the partners involved agreed on one ultimate goal. The plan was to assure that every infant started life with access to at least one person with the training to resuscitate babies after birth.
When HBB taught medics all around the globe how to reduce the risks of newborn mortality, it addressed several different approaches. One of HBB's top priorities was to increase general hygiene and, thus, prevent potential infections. Helping Babies Breathe further gave clear instructions for the evaluation of a newborn. These included understanding crying as an indicator for whether or not a baby was receiving enough oxygen and examining the baby's breathing more thoroughly. The program also taught providers how to react in the case of a newborn not being able to breathe. In order to do so, HBB focused specifically on the method of drying the baby to facilitate breathing. It also encouraged using ventilation and chest compression if drying was not enough.
Decreasing the Number of Newborn Deaths
In the last 10 years of Helping Babies Breathe, the program has successfully increased the chances for newborn survival. HBB has trained approximately 1 million people in more than 80 countries in resuscitating babies right after birth. A study in several different countries like Tanzania and Nepal has shown the huge impact of the program on the lives of infants. The number of stillborn babies has gone down by 34% and the number of newborns that die on their first day has reduced by 30% in places that have been working with HBB.
Governmental Independence
After initially investing in equipment and training birth attendants to help babies breathe, many places no longer need HBB. Seeing how successfully the program increased newborn survival, many of the countries that HBB was working with started to include the resuscitation techniques and new standards for medical providers into their governmental budgets. Since many countries now have the knowledge and determination to fight newborn deaths on their own, HBB partner and important sponsor USAID is able to slowly stop the financial support that the agency has been giving to the program for the last 10 years.
– Bianca Adelman
Photo: Wikimedia Commons
https://borgenproject.org/wp-content/uploads/The_Borgen_Project_Logo_small.jpg
0
0
Jenna Chrol
https://borgenproject.org/wp-content/uploads/The_Borgen_Project_Logo_small.jpg
Jenna Chrol
2021-04-04 01:31:05
2021-04-01 06:53:51
10 Years of Helping Babies Breathe