10 Nursery Rhymes from Around the World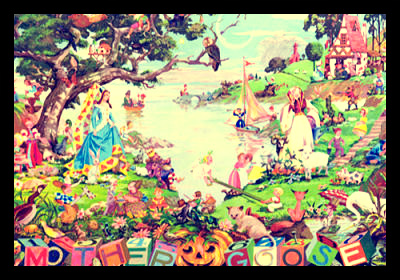 No matter the continent, nursery rhymes are the soundtrack to childhood. Their purposes vary, from soothing a child to sleep, to singing loudly on the playground to learning the ABCs. They are important tools to teach kids about nature, family and social practices. At any age, rhymes are fun to recite and provide a sense of innocence and playfulness that is too often robbed by economic and social hardships. More importantly, they show that children are children, no matter where they are born. Here are a few popular verses from cultures across the globe:
United States:
A-tisket, a-tasket
A green and yellow basket
I sent a letter to my love
And on the way I dropped it
I dropped it, I dropped it
Yes, on the way I dropped it
A little boy picked it up
And put it in his pocket
Kenya:
A tree planted on the riverbank
Look at its leaves
Playing with the wind
Even us, let's play with the wind
Lesotho:
An elephant
Had a very long nose!
He went to take a mouse
He went to take a lizard
He tied them to a tree
Bolivia:
I have a doll dressed in blue,
Little white shoes and her lace shawl
I took her for a stroll, she got sick
I have her in bed in a lot of pain
Then I called the doctor and he prescribed me
A little prescription that cured her
Haiti:
Uncle Bouki, Uncle Bouki,
Are you sleeping? Are you sleeping?
Get up to play the drum, get up to play the drum
Ding, ding, dong! Ding, ding, dong!
Romania:
The stone bridge broke down,
The water came and took it down!
We'll build another one,
Another one that will last and is even more beautiful!
We'll build another one,
Another one that will last and is even more beautiful!
Greece:
Our kind grandmother
Has chickens in her yard
Chickens and chicks
Geese and Goslings
Our kind grandmother
Has a sewing machine
And sews and patches
Our grandfather's pants
Sri Lanka:
In this orange tree, there are many ripe oranges
And branches hanging down.
Two oranges are enough for my sister and me.
We are not naughty children
Who pick all the oranges.
Turkey:
Sound of the birds all over the lowland
Everybody feels admiration for it
The honeybees settle on the flowers
The sweet lambs are looking for some grass
The leaves on the green trees
All these fragrant and fresh soils
French Polynesia:
Sleep baby
Mommy is at the reef
Daddy is in the valley
Looking for bananas
To make cooked bananas for baby
These nursery rhymes expose the beautiful similarities and variances of childhood in different cultures and show how each country approaches educational development through music.
– Stefanie Doucette
Sources: New York Times, Mama Lisa's World
Photo: Fun Links Daily
https://borgenproject.org/wp-content/uploads/logo.jpg
0
0
Borgen Project
https://borgenproject.org/wp-content/uploads/logo.jpg
Borgen Project
2014-02-27 04:00:13
2014-02-27 11:51:01
10 Nursery Rhymes from Around the World