10 Facts About Rocinha, Brazil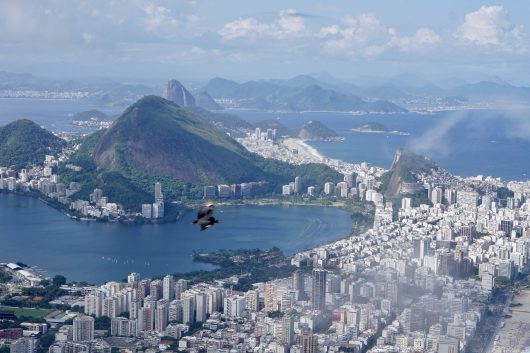 Just outside Rio de Janeiro are some of the largest urban slums in Latin America, filled with people and rich culture that makes up some of the unique parts of the country. One of these many slums is Rocinha, the country's largest favela. Here are 10 facts about Rocinha, Brazil.
10 Facts About Rocinha, Brazil
Rocinha is located in Rio de Janeiro's South Zone on a large hillside overlooking the city.
Rocinha is Rio de Janeiro's largest "favela" or slum, with around 180,000 people living in the tightly packed city.
Despite its large population, Rocinha takes up less than a square mile of land. This extreme lack of space forces families to build houses on top of one another. This results in house structures up to 11 stories tall.
Rocinha is considered one of Brazil's better favelas due to its close proximity to jobs and services. Easier access to jobs also means that families are better off and can afford basic necessities such as electricity and water.
Although the slum has economic opportunities, drug-related violence is one of Rocinha's more well-known characteristics.
Since 2004, Rocinha has been under the control of a criminal group called Amigos dos Amigos, a gang known for violence and drug dealing.
The average education level for a resident of Rocinha is 4.1 years, with less than 1 percent of the population receiving a degree above a high school diploma.
In December of 2010, then-President Lula inaugurated Rua 4, a street development project that revamped a previously decrepit street into a downtown for the favela. With the new street came improved housing, gardens, playgrounds, plazas and locations for potential stores to open and boost the local economy.
In 1998, an NGO called Two Brothers Foundation was founded in the slum in order to teach children and adults how to read and write in English for free. As of 2012, the organization had seven full-time staff members and about 50 volunteers from all over the world who join the program in order to help educate the residents of Rocinha.
In 2012, a group called Green My Favela piloted its first "green space" in Rocinha. The project created a community garden in the urban slum and involved the local community by encouraging residents to come out and help maintain the garden. The garden has helped children get away from street violence and inspired interest in something benefitting the whole community.

These 10 facts about Rocinha, Brazil are a brief look into the favela. While the city has experienced hardships throughout its history, those who see all that the city has to offer to continue to make the city better for the generations that follow.
– Olivia Hayes
Photo: Flickr
https://borgenproject.org/wp-content/uploads/logo.jpg
0
0
Borgen Project
https://borgenproject.org/wp-content/uploads/logo.jpg
Borgen Project
2017-06-29 01:30:08
2020-05-09 19:33:51
10 Facts About Rocinha, Brazil