10 Facts About Living Conditions in Brazil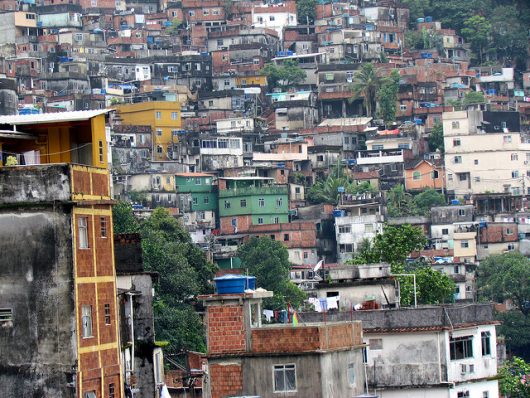 Brazil has one of the most unequal wealth distributions in the world, which leads to drastic differences in quality of living conditions between Brazil's poor and rich. Big cities in Brazil will often have luxury apartments next to slums piled up on the outskirts of the town.
10 Facts about Living Conditions in Brazil
Slums are called favelas, which

 are living conditions for the extremely impoverished in Brazil. They are built by their occupants on the edges of big cities like Rio de Janeiro.

As of 2013, two million people in Brazil live in favelas.

The occupants of favelas are extremely poor, unable to afford better housing in urban areas. These citizens often moved to urban areas to find better work but were forced into the slums when they could not find a job that paid them enough to purchase better housing.

The communities of favelas do not have any organization or sanitation systems and are built illegally.

 With a lack of any structure or legal system which leads to higher crime rates, favelas are often sites of crime and drug-related violence.

Rates of disease and infant mortality are high in favelas, and poor nutrition is common.

The lack of sanitation and proper healthcare leads to diseases and more deaths in children.

Unpredictable weather, which could cause landslides, can often wipe away entire communities of favelas.

 Weather like this leaves those who have limited housing with none at all.

Over 50 million Brazilians live in inadequate housing.

In addition to urban slums, rural areas of Brazil also experience significant poverty and lack of quality housing. This means many Brazilians rural dwellers do not have access to sanitation systems like flushing toilets and running water.

Favelas are becoming increasingly common as sites for tourism.

Every year, around 40,000 people visit favelas in Brazil to see the poverty that they would otherwise never be exposed to.

Overall, there is an intense need for more housing in Brazil.

The country needs to construct eight million more houses to provide enough shelter fulfill to those who need it. Current housing is cramped and people are often forced into the favelas as a result.

Habitat for Humanity works closely with Brazil to reconstruct slums and drive housing projects.

As an organization, HFH has helped almost 13,000 Brazilian families to find or build better housing. They have also worked to rehabilitate Brazilian slums.

The Brazilian government launched a program in 2009 called Minha Casa, Minha Vida (My Home, My Life) that helped four million low-income families build homes.

Families with low incomes were able to apply to move into new homes or have their current home reconstructed.
Programs like Minha Casa, Minha Vida are essential for the government to invest in, in order to improve living conditions in Brazil. 
– Amelia Merchant
Photo: Flickr
https://borgenproject.org/wp-content/uploads/logo.jpg
0
0
Borgen Project
https://borgenproject.org/wp-content/uploads/logo.jpg
Borgen Project
2018-09-16 01:30:03
2020-01-08 15:08:41
10 Facts About Living Conditions in Brazil