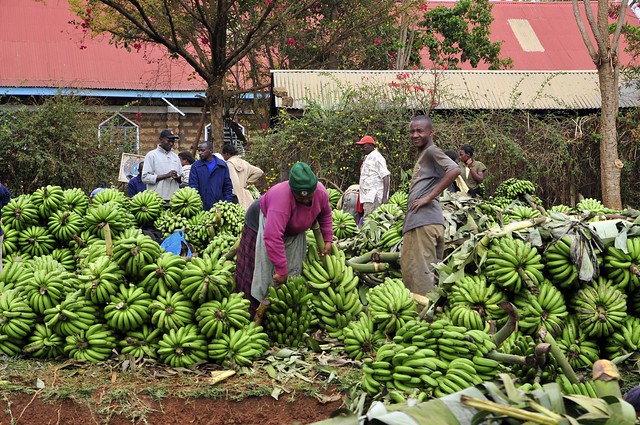 Agriculture in Africa is the cornerstone of sub-Saharan Africa, generating almost 23 percent of the continent's GDP. Here, women are the backbone of the industry; yet, one in every four malnourished people in the world lives in Africa, and land laws are not as favorable to women as they are to men. The country-led initiative, Grow Africa, and the U.K. based charity, Farm Africa, are working to fix these disparities to help Africa reach its potential. Here are 10 facts about agriculture in Africa.
Top 10 Facts About Agriculture in Africa
Agriculture is one of the most beneficial assets a country can have. It creates more jobs and helps eliminate poverty and hunger, which are immediate problems Africa is facing. Africa's population will nearly double by 2050 and quadruple by 2100, making it harder to feed communities and generate wealth, but agriculture in Africa has the potential to flourish. In fact, Africa can add 20 percent more grain to the 2.6 billion tons of worldwide production, and nearly the same amount of fruits and vegetables. Agriculture also has the greatest potential to bring about gender and class equality by providing a source of income for women and the poor.
Women in Africa represent nearly 70 percent of the workforce in agriculture and contribute up to 90 percent of the labor, but many women lose land after losing a husband. In fact, in Zambia, nearly 33 percent of widows lose access to family land. Unlike women, men have greater access to productive resources and therefore produce more per acre. By giving women access to resources, agriculture in Africa can produce up to 30 percent more and reduce hunger by 12 to 17 percent. In other words, women in Africa have the potential to feed as much as 150 million people.
Changing the law is not the only answer to closing the gender gap in land ownership, it also requires social change and awareness. In Mozambique, a country in southeastern Africa, women have access to land and property (land law of 1997). However, implementation of the law took time due to traditional courts abiding by customary rules. This follows men being the head of their house and land. In Ghana, there are two laws from 1985 with goals of ensuring widows consent and benefit from selling family land, but not enough women are aware of the laws. Currently, several U.N. agencies are working to strengthen laws in African countries, re-shape social norms and raise awareness of women's rights. This includes a Joint Programme on Accelerating Progress towards the Economic Empowerment of Rural Women. They aid more than 40 thousand women with training and enhancing their access to financial services and markets.
Smallholder farms are family farms that are less than seven acres and form 80 percent of Africa's farmland. There are 33 million family farms that are under four acres in Africa. Research shows that job creation is better capitalized, and investors receive more for their money on smallholder farms than industrial farms. Many farmers in Zambia,  have over 24 acres of land and direct access to markets and inputs such as fertilizer. On the other hand, larger family farms with good soil and access to markets are considered low risk due to receiving aid. Included are welfare, cheaper food and crop insurance. This allows farmers to take risks and increase productivity, such as growing crops for profit. Low risk means access to credit and therefore valuable inputs that will increase yield. The success of many farms depends on financing and resources.
A crucial resource to increasing Africa's production and growth is giving farmers access to more inputs. Many farmers use traditional farming methods, such as animal waste or cover crops for fertilizer. Despite these efforts, they are still unable to replenish their soil. Many do not have access to synthetic fertilizers or pesticides if they need them and cannot afford irrigation pumps. In fact, only six percent of arable land in Africa is irrigated. Producing more food, such as grain in Africa requires investment.  In order for maximum output of crops, there should be approximately eight times more fertilizer, six times better seeds and funding of $8 billion for storage and $65 billion for irrigation.
According to the U.N., foreign investment contracts in Africa have seized nearly 50 million acres of land. However, these acts were not always conducted diligently or openly. Although some sources suggest that there is ample land for the taking, local indigenous people are often overlooked as viable owners. Additionally, much of the land in Africa is unattainable. About 50 to 70 million acres in nine countries in sub-Saharan Africa are arable, while the rest is lost to poor infrastructure, conflict zones, or under forest cover and conservation.
Grow Africa's mission is to increase private sector investments in agriculture in Africa, which addresses obstacles beyond the number of inputs. Rising urbanization and transportation reduce costs in transporting goods to markets. Investing in infrastructure would not only improve transportation but also intensify local competition. Additionally, it would allow access to arable land and create an efficient and profitable market. After stakeholders invested in agriculture in 11 African countries, poverty and hunger rates dropped and production rates increased.
Farm Africa's initiative is to improve smallholder farm practices and alleviate poverty starts with the stakeholders. The farmers along with agribusinesses, private investors, national research centers and the government are all vital resources which help farmers. They all aid in implementing technologies that increase resilient and productive outputs. In addition, Growing Futures encourage farms to work together to aggregate high-quality crops. It also promotes creating business plans and selling in bulk at higher prices. Farmers taking part in the project have are experiencing income increases. On average, average income has increased by 49.5 percent. In Elgeyo-Marakwet, Kenya, there are 446 farmers across 23 farms whose income accumulate as high as $210 thousand.
Climate is a deciding factor in the success or failure of a farm. Most of the continent's irrigation resides in only five of the 54 countries, making farmers more vulnerable to weather fluctuations. Farm Africa provides forecasts, insurance and small-scale irrigation systems to protect farmers against unexpected weather events.
Farm Africa gives farmers access to important inputs. For example, fertilizers, drought-tolerant or disease-resistant seeds, and storage for their crops. Kenyan native, Lucy Marani, is a smallholder farmer who grew garden-variety peas to sell locally before finding financial security by diversifying her crops and switching to a more profitable seed that appeals to domestic and international markets. In 2018, Farm Africa fundraised raised $522 thousand. These funds aided Marani and two thousand other farmers in achieving security and success.
Improving agriculture in Africa not only addresses food instability. In fact, it is likely to bring about political rights, a steady economy and lower rates of poverty.
– Emma Uk
Photo: Flickr
https://borgenproject.org/wp-content/uploads/The_Borgen_Project_Logo_small.jpg
0
0
Kim Thelwell
https://borgenproject.org/wp-content/uploads/The_Borgen_Project_Logo_small.jpg
Kim Thelwell
2019-07-17 10:31:45
2019-07-17 10:31:45
10 Facts About Agriculture in Africa