Women's Empowerment in the Philippines Needs Improvement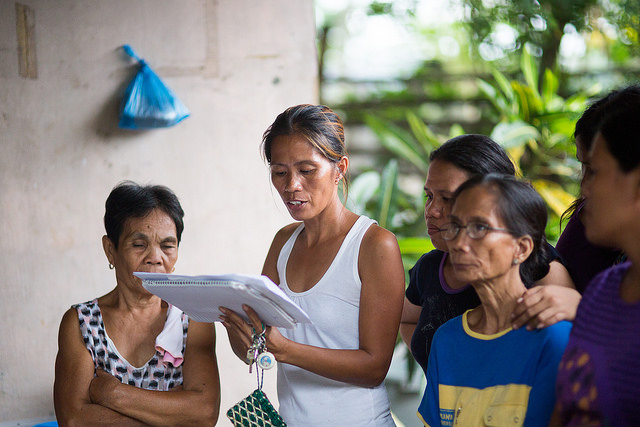 The Philippines has maintained its place among the top 10 countries in the world in terms of gender equality. To achieve women's empowerment in the Philippines, the government adopted the Magna Carta of Women (MCW) was adopted in 2009. It seeks to end all discrimination and to promote the rights of women, as well as to establish the Philippines' commitment to the principles of the Convention on the Elimination of All Forms of Discrimination Against Women's Committee and the International Covenant on Economic, Social and Cultural Rights.
The MCW's agenda includes:
Achieve fifty-fifty gender balance in government positions.
Leave benefits and nondiscrimination in employment, especially in the military and police.
Equal access in education and equal status.
Nondiscriminatory and nonderogatory portrayal of women in media and films.
Mandates review, amendment and repeal of existing discriminatory laws.
The Philippine Commission on Women (PCW) is the oversight body on women's concerns and acts as the catalyst for gender mainstreaming and the lead advocate of women's empowerment in the Philippines. It works around focus areas such as Women's Priority Legislative Agenda, gender-responsive governance, leadership and political participation, violence against women and women's economic empowerment.
However, challenges still exist for the Philippines. Poverty and vulnerability of rural and indigenous women remain a pressing issue. Each day, 11 women die due to complications from pregnancy and childbirth, and many women still lack access to productive employment.
The Philippines is the only country in the world which does not allow for a divorce.  Other than the death of one's partner, getting an annulment is the only option for dissolving a marriage. According to the Philippine Commission on Women, this can be done on grounds of "lack of parental consent; insanity/psychological incapacity; fraud, force, intimidation or undue influence; impotence; and sexually transmissible diseases." The burden of a failed marriage often falls on the woman due to cultural stereotypes. Adopting divorce in the Philippines' Family Code is essential to uplift the plight of women trapped in a marriage ridden with violence, abuse, oppression and deprivation, and to achieve women's empowerment in the Philippines.
The Philippines also considers adultery and concubinage as criminal offenses against chastity and are drafted as well as implemented in a manner prejudicial to women. Many provisions of the Family Code give men more decision-making powers than women. Another blatant violation of human rights, Article 247 of the Revised Penal Code, exempts a husband or a parent who causes serious physical harm or death upon his wife or minor daughter if she has been caught portraying "unacceptable sexual behavior."
Structural sexism remains the biggest obstacle to women's empowerment in the Philippines. Even though there are many laws in place that score well on international measures, the implementation of these policies is slow and has not translated into gender parity in the largely patriarchal society.
-Tripti Sinha
Photo: Flickr
https://borgenproject.org/wp-content/uploads/logo.jpg
0
0
Borgen Project
https://borgenproject.org/wp-content/uploads/logo.jpg
Borgen Project
2017-11-24 01:30:20
2019-11-20 07:11:20
Women's Empowerment in the Philippines Needs Improvement