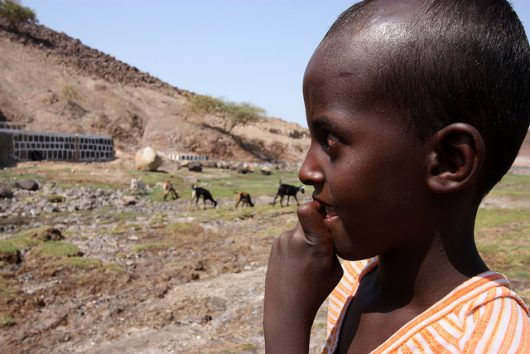 Djibouti is a small nation located in the Horn of Africa between Ethiopia, Somalia and Eritrea. The country faces a major poverty problem. About 41 percent of the population live in poverty and 23 percent live in extreme poverty. So why is Djibouti poor?
At the heart of Djibouti's poverty is a lack of resources. The arid land makes Djibouti a poor place for farming. In fact, just 0.04 percent of land in Djibouti is arable; this is largely due to the harsh, dry climate. Drought is common and a huge threat to Djibouti's rural population, which consists of nomadic farmers. The most recent drought saw malnutrition rates rise to 18 percent and in some areas, chronic malnutrition was as high as 30 percent.
These conditions have caused people to flee to urban areas like Djibouti's capital city, which is home to over 75 percent of the population. Due to the unprofitable nature of farming in Djibouti, the country has to rely on foreign imported food to feed its people.
In addition to a poor agricultural sector, Djibouti also suffers from the stresses of war. In the 1990s, Djibouti experienced a civil war after President Hassan Gouled Aptidon transformed the government into a single party state and began granting privileges to the Issa clan. The Afar clan rebelled, which led to a three year civil war. By the time peace was finally attained, the war had caused significant damage to rural livestock production and infrastructure. Djibouti has spent a decade recovering from these damages.
Despite these great challenges, Djibouti's future is looking brighter. The nation is gaining significant investment, primarily from China, in the hopes of making Djibouti a free trade zone. These investments have caused Djibouti's GDP to grow and the country is expected to have its GDP growth rate continue to rise in the next two years. Consistent foreign investment in infrastructure and Djibouti government reforms to make the area more business friendly could be a significant boon to ending poverty in Djibouti. Hopefully with continued progress, we will no longer have to ask "Why is Djibouti poor?"
– Carson Hughes
Photo: Flickr
https://borgenproject.org/wp-content/uploads/logo.jpg
0
0
Borgen Project
https://borgenproject.org/wp-content/uploads/logo.jpg
Borgen Project
2017-09-24 01:30:09
2020-07-09 17:50:13
Why Is Djibouti Poor?