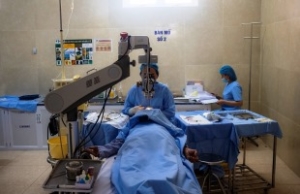 Blindness, as well as moderate to severe visual impairments (MSVI), affects hundreds of millions of people around the world. An estimated 217 million people suffer from MSVI, and 36 million are blind. However, despite the fact that 89 percent of all visually impaired people live in developing countries, blindness tends to be one of the more overlooked aspects of anti-poverty and development efforts around the world.
In 1999, the World Health Organization (WHO), in partnership with more than 20 other organizations, launched the VISION 2020: The Right to Sight campaign, which intended to "eliminate the main causes of all preventable and treatable blindness as a public health issue by the year 2020." Since the beginning of the campaign, much progress has been made in reducing preventable blindness around the world. However, preventable blindness continues to be an issue around the world, particularly in impoverished countries.
Before diving into the origins, objectives and accomplishments of the VISION 2020 initiative, it will be useful to understand how blindness, MSVI and global poverty intersect.
Blindness and Global Poverty
Due to the fact that the overwhelming majority of blind and visually impaired people live in poor and middle-income countries, poor eye health has become deeply intertwined with global poverty. In general, blindness and MSVI are common among the global poor because of their inability to afford health services, which puts them at an increased risk of contracting eye diseases. Additionally, a lack of awareness about eye health exacerbates this problem.
Unfortunately, poverty can cause blindness just as much as blindness can cause poverty. Blindness can impose severe economic burdens on those affected by drastically reducing their ability to work and provide for themselves. Ninety percent of blind people around the world cannot work. High levels of blindness also create economic problems for whole countries, and even the world economy. In 2000, it was estimated that visual impairment cost the global economy between $19,223 million and $22,764 million in GDP.
Blindness can also bring negative social consequences, such as a loss of social standing and authoritative decision-making. This social stigma is particularly prevalent in blind women, 80 percent of whom report a loss of authority within their families. Additionally, the economic impact of blindness can lead the afflicted to feel an increased sense of social isolation and alienation from their communities.
The VISION 2020 Initiative
The VISION 2020 initiative is a multi-organization campaign, launched by the WHO in 1999, which aims to eliminate preventable blindness by the year 2020. In order to achieve this goal, VISION 2020 has used three core strategies. These include using specific programs to control and treat the major causes of blindness, training ophthalmologists and other eye doctors to provide eye care to those who need it, and improving technology and infrastructure to increase the accessibility of eye treatment.
Since the VISION 2020 initiative launched, some progress has undeniably been made toward reducing preventable blindness worldwide. Between 1999 and 2015, the prevalence of visual impairment decreased from 4.58 percent to 3.38 percent. Additionally, many low and middle-income countries are seeing increased rates of cataract surgery.
However, despite the fact that the campaign is in its final year, it will not achieve its goal of ending preventable blindness around the world. Compounding this problem, researchers are pointing to emerging global health trends that are expected to cause an increase in visual impairments around the world. For example, an increase in the elderly population will likely give rise to an increase in age-related visual impairments, like cataracts. Increased rates of diabetes around the world are causing higher rates of diabetic retinopathy.
It is important to recognize that while these health developments may complicate efforts to reduce blindness worldwide, the fact that researchers have knowledge of these trends can shape the strategies of future anti-blindness campaigns. Despite the failure of the VISION 2020 initiative to end preventable blindness around the world, experts can learn from the program's shortcomings and build on its successes going forward.
– Andrew Bryant
Photo: Flickr
https://borgenproject.org/wp-content/uploads/The_Borgen_Project_Logo_small.jpg
0
0
Kim Thelwell
https://borgenproject.org/wp-content/uploads/The_Borgen_Project_Logo_small.jpg
Kim Thelwell
2019-09-05 16:21:23
2019-09-20 10:09:13
VISION 2020 Initiative