USAID Programs Pave Pathways in Jordan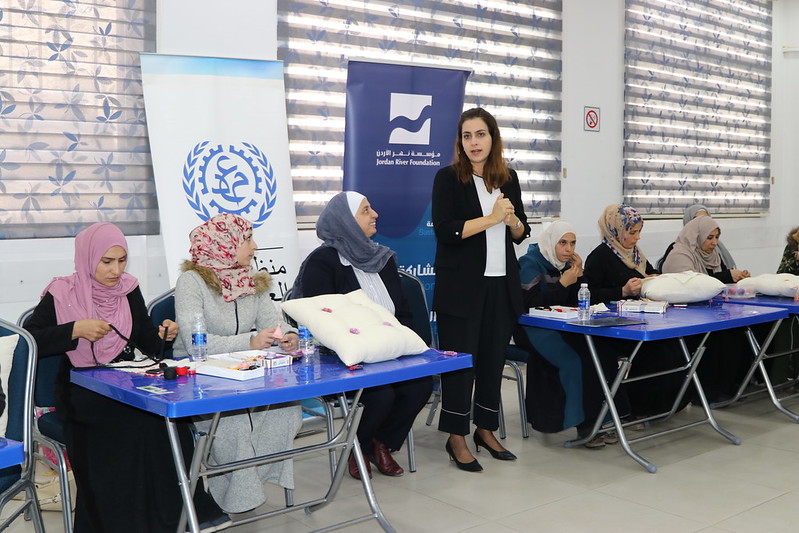 The United States Agency for International Development (USAID), an influential government organization with a global presence, aims to transform the trajectory of development in developing nations. USAID, with the help of the private sector and local communities, identifies where assistance is needed the most and how to make the proper investments to solve problem areas. Since 1949, USAID has worked closely with Jordan to implement various programs that align with the goal of foreign aid and development. As of 2023, USAID continues to implement programs in Jordan, focusing on areas such as gender equality, environmental sustainability and education, to bring about positive changes.
USAID Makanati – Women's Economic Empowerment and Leadership Activity
In November 2021, EnCompass Inc. a woman-owned business partnered with USAID to implement the Makanati Program, which focuses on addressing the gender gaps women face in the labor force. Unemployment has been a problem in Jordan for some time but has skyrocketed since the coronavirus pandemic at 20-25% over the last three years. Women are disproportionately impacted with a 30% unemployment rate and 14.2% labor force participation rate, according to the World Bank. Increasing female involvement in the workforce would drastically shift the unemployment rate and improve household incomes, boost economic growth and produce a more inclusive and stable workforce. This is exactly what the Makanati Program is for.
Makanati is a $30 million, five-year project with the primary goal of creating opportunities for women in the workforce. Through the right research, campaigns and interventions, it plans on improving workplace environments and employment policies so that they are inclusive of women. Makanati is taking the approach of solving root issues that prevent women from joining the workforce in the first place. Some of the restrictions women deal with include childcare and transportation or lack thereof. Given this concern, the program intends to explore alternatives to childcare and transportation modes that would give women the flexibility they need. Over the course of the next few years, as a USAID program in Jordan, Makanati hopes to create a domino effect for women as it overcomes these root issues so that it leads to overall economic empowerment for not just Jordan itself, but for the women of Jordan.
USAID Water Management Initiative – Water Efficiency and Conservation Activity
Jordan is the second most water-scarce country in the world. USAID has implemented several programs to address these issues in hopes that with the proper engineering and planning, water can be conserved and more abundant. To put it in perspective, Jordan's annual water availability in 2012 was 145m3 and 10 years later it is less than 100m3. With significant population growth combined with water scarcity, only two-thirds of the population's water demands are being met. While changing weather patterns play a role in the disappearing water levels, much of the cause comes from poor infrastructure including supply systems, broken piping and the lack of conservation strategies. USAID is determined to address the issues of water scarcity with the help of Tetra Tech, a consulting and engineering services firm through the Water Management Initiative (WMI).
The WMI is a $35 million five-year initiative that focuses on four key areas; water supply systems, water conservation and demand management, water sector governance and protection of water supply. Tetra Tech is taking a realistic approach in order to create long-term solutions that will provide the country with sustainable water sources. It is hoping to achieve this by partnering with the Jordanian government, Jordan's water utility services (Yarmouk Water Company) and the private sector. By addressing the problems first and then creating solutions, these long-term goals can be achieved. As an engineering services firm, they are developing the proper framework to improve water conservation and quality management. Gradually, this program will help change the trajectory of Jordan's resources and assist in meeting the basic need for water accessibility for the people of Jordan, including their large refugee population.
Final Thoughts
Manakati and The Water Management Initiative are simply two examples of the focus USAID programs in Jordan have on ensuring local concerns are met and root problems are identified and solved. Development is not simply applying a bandage to a deep wound; it involves thoroughly cleaning the wound, dressing it properly and providing the appropriate medication. Over the next few years, these programs intend to build a better future for Jordanians and the country as a whole.
– Sarina Qureshi
Photo: Flickr
https://borgenproject.org/wp-content/uploads/logo.jpg
0
0
Jennifer Philipp
https://borgenproject.org/wp-content/uploads/logo.jpg
Jennifer Philipp
2023-07-11 01:30:51
2023-07-07 02:24:26
USAID Programs Pave Pathways in Jordan