How Urban Farming Can Help Reduce Poverty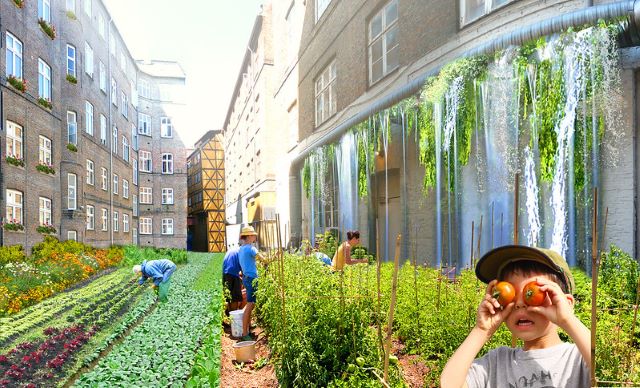 The United Nations reports that over 2.5 billion people live in urban areas today and the rate of urbanization is only accelerating. By 2025, it is estimated that 3.5 billion people will live in urban areas, nearly half of the world's population. People's way of life is changing and the way people access their food also needs to adapt, which is where urban farming comes in. Urban farming can help reduce poverty in addition to an array of other benefits.
Challenges of Urbanization
Historically, moving to a city has been associated with increased opportunity and wealth, driven by more and better jobs and the promise of upward momentum and a better life. Today, the reality of urbanization is much different. Urbanization in low-income countries is growing exponentially and marked by poverty, unemployment and food insecurity. Many people move to the city from rural areas to escape over-population, violence, disease and hunger. As a direct result of this, about one billion people live in urban slums without access to sanitization, clean water or enough food or work. To survive, many people have resorted to growing their own food wherever they can. This is known as urban agriculture or urban farming and in many places, it is becoming the front line of food production.
What is Urban Farming?
Urban farming is a local food system of growing plants and raising livestock in and around cities, as opposed to traditional rural areas. Today, 800 million people around the world rely on urban agriculture for access to fresh, healthy foods. Urban agriculture is versatile, allowing for different crops to be grown. This provides urban communities with direct access and control over nutritious and locally-produced food, which creates jobs and boosts the local economy. Urban farming is also good for the environment and positively impacts household food security. All of these factors result in poverty reduction, which helps quickly developing urban areas.
Financial Incentives
Urban agriculture requires workers to harvest, care for, sell and maintain crops and animals. This has a huge impact on families struggling to find employment by creating jobs and supporting livelihoods. Additionally, it makes fresh food cheaper, allowing people in low-income areas access to affordable produce. Urban farming can help reduce poverty because when more people have jobs and are able to buy, it fuels the economy, creating even more opportunities. The Food and Agriculture Organization of the United Nations (FAO) sees how important urban agriculture is in poverty reduction efforts and has helped over 20 city governments implement multidisciplinary actions to optimize policies, financial incentives and training programs to low-income farmers in order to "improve horticultural production systems."
Environmental Benefits
Cities, especially highly populated ones, face many environmental challenges. These may include lack of greenspace, heat capture, pollution, lack of biodiversity and poor air quality. Urban farming can reduce the negative effects of these concerns. By decreasing carbon dioxide in the air, providing environments for different species to thrive and decreasing the environmentally costly process of importing food from other places, urban agriculture is environmentally beneficial.
Success Stories
Across the world, urban farming is helping people and seeing success in many communities. RotterZwam, located in Rotterdam, Netherlands, is a "circular system" mushroom farming operation that uses coffee grounds used by local businesses to fertilize the plants. The facility itself is solar-powered and delivers products with electric cars. Another organization based out of London, England, uses the same circular system method. Called GrowUp Urban Farms, the farm grows crops and farms fish simultaneously by utilizing their symbiotic relationship. Both farms are good for the environment and jobs and are also booming local businesses.
Overall, urban farming can help reduce poverty in a number of important ways. It improves local economies by stimulating commerce and creating jobs, helps the environment and provides healthy, affordable food to local communities.
– Noelle Nelson
Photo: Flickr
https://borgenproject.org/wp-content/uploads/logo.jpg
0
0
Yuki
https://borgenproject.org/wp-content/uploads/logo.jpg
Yuki
2020-12-14 05:34:20
2020-12-14 05:39:54
How Urban Farming Can Help Reduce Poverty