Saving the World One Drop at a Time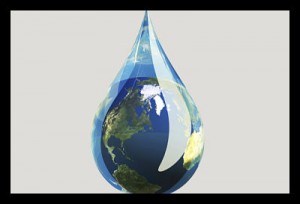 The struggle to access clean water in many developing nations is no secret.  Every year, between six to eight million people perish due to water-borne diseases or lack of water.  Another cause of concern lies in the fact that over two thirds of the global population lives on the driest half of earth.  Experts estimate that 2.5 billion people lack proper water sanitation, and another 783 million completely struggle to locate access to any source of water.
In response to these alarming facts, the United Nations has declared 2013 the UN International Year of Water Cooperation to bring a revitalized focus and attention to these water issues.  The purpose of using water as the year's theme is to ignite change in this crisis.  The plan is to draw more attention to successful water projects that have worked in various areas in an attempt to spark innovation and spread ideas in areas needing water development.  Other initiatives in the Year of Water Cooperation include increasing water education, working with regional leaders to develop relationships focused on addressing issues, settling border disputes involving water, and fundraising and developing necessary legal limits.
The UN chose the name International Year of Water Cooperation to highlight the necessity of forming regional bonds and of leaders working together to address the problems.  The theme is meant to inspire countries to share and work as a team to save millions of lives.  Since there are many different cultural, political and social factors at play in this global issue, cooperation remains the key to moving forward.
This initiative was started back in December 2010, among a United Nations General Assembly delegation.  The idea began by thinking of water as a chain: connected by various water basins, rivers and groundwater flow all around the world.  One objective of the year is to increase collaboration over sharing these resources to reach a maximum number of people, effectively creating a chain reaction.
If the water initiative goes successfully, not only will millions of lives be saved from simple prevention of disease, diarrhea and dehydration, but conflicts over water and ethnic fighting will simultaneously decrease.  The UN chose a strikingly important issue to focus on during 2013, with the potential to make an impact on the lives of billions of people around the planet.
– Allison Meade
Sources: UN News Centre, UN Water, United Nations
Photo: 
https://borgenproject.org/wp-content/uploads/logo.jpg
0
0
Borgen Project
https://borgenproject.org/wp-content/uploads/logo.jpg
Borgen Project
2013-08-23 21:26:31
2015-01-29 10:11:28
Saving the World One Drop at a Time