Addressing Turkish Educational Inequality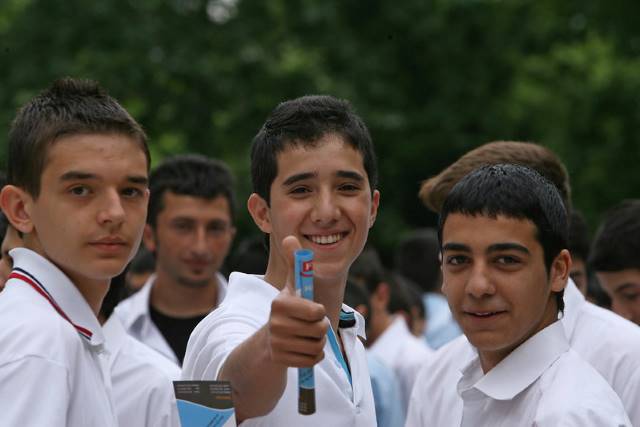 With the COVID-19 pandemic creating economic distress in Turkey, the need for NGOs, nonprofits and organizational aid is bigger than ever. One NGO, the Darüşşafaka Society, is providing much-needed support for one of Turkey's most vulnerable populations: children. As Turkey's oldest non-governmental organization in the field of education, the Darüşşafaka Society has served as a model for combating Turkish educational inequality and remains one of the most prominent NGOs in Turkey today.
Low Enrollment Rates in Turkish Schools
In comparison to the majority of EU countries, Turkey has a larger issue with educational enrollment. In 2016, Turkey hit a peak in terms of the percentages of out-of-school adolescents since 2012. The UNESCO Institute of Statistics found that approximately 523,363 Turkish adolescents were unenrolled, surpassing the previous year by almost 100,000 youths.
While this number has declined in recent years, 2019 data from the Organization for Economic Cooperation and Development (OECD) found that the percentage of Turkish 15-to-19-year-olds who were unemployed and out of school was 17% still far above the average 6.6% for OECD countries.
Academic and Socioeconomic Inequality in Turkey
A contributing factor to these numbers is Turkish educational inequality, which impacts technological access, enrollment rates and academic performance overall.
In 2020, the COVID-19 pandemic exacerbated the issue of Turkish educational inequality. Reports indicate the true severity of the situation, stating that 20% of Turkish students had internet connection issues in 2020, limiting online learning accessibility and resources for students across the country. Additionally, the financial stress of the pandemic put many families in a tight spot, unable to afford necessary tools like school supplies, computers and technological resources. Households were also unable to pay for data and the internet to connect to online classes.
The History of Darüşşafaka Society
For many needy children and families, relief has come in the form of the Darüşşafaka Society. Darüşşafaka Society is the oldest Turkish NGO in the field of education, originally founded in 1863 as a part of Cemiyet-i Tedrisiyye-i İslamiye or the Islamic Education Society. High-standing intellectuals in Turkey founded Darüşşafaka Society in order to establish formal education channels for needy children and orphans, teaching basic skills like reading, writing and math when governmental efforts fell short.
In more than 100 years since its founding, Darüşşafaka Society has become an integral part of the fight against Turkish educational inequality, providing educational and financial support to needy and orphaned students and expanding on its original mission by constructing a physical campus in Istanbul. The Society offers full scholarships to students as well as complete coverage of all healthcare, living and academic expenses. These costs are covered through donations made to The Society. The initiative also strives for scholarship support to its students during their tertiary studies.
Success Stories
The Society's impact on Turkish educational inequality can be seen through the stories of students, faculty and alumni. One such story is that of Dr. Nahit Çakar, a professor of anesthesiology at Istanbul University who was admitted to Darüşşafaka after struggling to pay for education. Çakar, while not an orphan, was a student with significant financial hardships that prevented accessibility to prestigious schools.
Çakar says, "We learned about friendship, camaraderie. We were a group of people coming from the same deprivation and poverty." After graduating from Darüşşafaka, Çakar went on to become a doctor and professor, aiming to pay forward the gift of education.
Funding for Darüşşafaka Society comes primarily from local community donors, but The Society has also found itself in the sights of international corporations in recent years. A 2011 interview with Saffet Karpat, chairman of the Procter & Gamble Turkey Board of Directors, highlighted the "Dream to Reality" flagship project with the Darüşşafaka Society as part of the company's social responsibility campaign in Turkey. The program has helped more than 10,000 students with projects in the fields of science, photography and music, throughout the course of one year.
Darüşşafaka Society Today
According to Darüşşafaka's website, the current student cohort amounts to a little less than 1,000 students, many of whom were previously learning in disadvantaged classrooms with up to 60 other students. The success of Darüşşafaka's students is in part due to the improved learning environments that it provides. For instance, as a result of its rigorous focus on science, Darüşşafaka's robotics team has become a significant contender in the FIRST Robotics Competition, an annual international STEM and robotics championship held in the U.S.
Comprised entirely of orphaned and disadvantaged students, the team has won championship-division awards since its start in 2009 and was most recently presented with awards in both the Long Island and Houston championships in 2019.
Breaking the Cycle of Poverty
According to the Global Partnership for Education, an equal chance at education for students of all backgrounds could reduce international economic disparities by 39%. With the continued efforts of organizations like Darüşşafaka Society, youth in need, disadvantaged and orphaned students will continue to be provided with opportunities to rise out of poverty through education.
– Madeleine Youngblood
Photo: Flickr
https://borgenproject.org/wp-content/uploads/logo.jpg
0
0
Saiesha
https://borgenproject.org/wp-content/uploads/logo.jpg
Saiesha
2021-05-12 07:30:16
2021-05-14 06:25:26
Addressing Turkish Educational Inequality