Tunisia's Food Crisis: a Tale Of War, Hunger, and Decree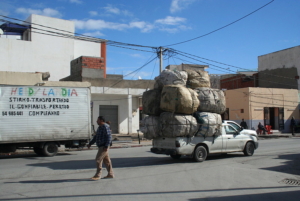 Tunisia, a North African country with a population of 11.8 million, is facing a dire food crisis in the wake of the Ukraine War. Recently, the country has struggled with various political and economic strife, including 14 government changes in the past decade and a slow economic revival. Reliance on foreign grain exports further exacerbates Tunisia's food crisis. This makes it particularly susceptible to the dangerous effects of foreign conflicts. In addition, the government has issued decrees that imperil citizens' freedom of expression.
Import Reliance and War
According to a report by the U.N. Food and Agriculture Organization (FAO), moderate to severe food insecurity affected around 25.1% of Tunisians from 2018 to 2020. Government food subsidies protected many Tunisians from the expensive cost of foreign imports and agriculture in the country for products such as vegetables and fruits is self-sustainable.
However, following the COVID-19 pandemic, the government was unable to continue providing sufficient subsidies as the prices of their imports skyrocketed, which led to Tunisia accepting an emergency loan from the International Monetary Fund (IMF) for $750 million.
In addition to the insecurity introduced by COVID-19, the war in Ukraine presents a significant threat to Tunisian's food supply. Since the Tunisian diet relies heavily on grains and Tunisia imports around 50% of its wheat from Ukraine and Russia, the Ukraine war has disrupted regular imports and accelerated hunger within the country.
Inside Tunisia
Statistics tell researchers about the numerical values of a food shortage. However, they cannot properly show the real living conditions of the crisis. Inside the personal lives of Tunisians during recent times of food shortage, bakers are running out of ingredients for bread and the lines of customers in the bakeries continue growing. Food insecurity in Tunisia has even affected citizens' religious practices; during Ramadan, feasting happens nightly during iftars, but with supply limitations, it was often a struggle to fulfill them.
On March 20, Tunisian President Kais Saied enacted Decree-Law 2022-14, which sentenced those who hoarded state-subsidized products, such as cartels hoarding flour, to 10 to 30 years in prison. This decree's goal is to protect against ongoing price gouging of grain products. In addition to the president's decree, the government has also focused on police raids of warehouses and placing the blame for empty grocery store shelves on small businesses.
Amnesty International, a non-governmental organization that fights for human rights, suggested that President Kais' anti-speculation decree could endanger citizens' freedom of expression because it claims to target the spread of misinformation. Instead of simply protecting citizens from misinformation, the decree prevents citizens from speaking out about food shortages for fear of prosecution.
World Bank Loan
On June 28th, the World Bank's Board of Executive Directors approved a $130 million loan to help alleviate the devastating effects of Tunisia's food crisis in the wake of the Ukraine war. Emergency support will be provided, such as imports of wheat and barley for dairy production.
In the long run, the loan could assist Tunisia to become more self-sufficient and less reliant on foreign grain imports. This decision also pushes for the reevaluation of weaknesses in the grain value chain, which greatly contributes to food insecurity globally.
– Caroline Zientek
Photo: Flickr
https://borgenproject.org/wp-content/uploads/logo.jpg
0
0
Saiesha
https://borgenproject.org/wp-content/uploads/logo.jpg
Saiesha
2022-08-06 01:30:32
2022-08-03 13:31:45
Tunisia's Food Crisis: a Tale Of War, Hunger, and Decree