What to Know about Tuberculosis in South Africa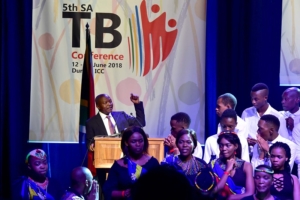 Tuberculosis (TB), a bacterial disease, is contracted through airborne respiratory droplets from an infected individual. TB is also contractible from unpasteurized milk containing Mycobacterium Bovis, or Bovine Tuberculosis. Pulmonary TB primarily affects the lungs, but more than 90% of individuals with TB have a latent form known as drug-resistant TB (DR-TB). With tuberculosis as the leading cause of death in South Africa, the government and other organizations are working to help those with the illness. The South African government, with aid from the international community, is slowing the spread of TB through treatment, premature diagnosing, proper medical training and accessible testing. Here is what you need to know about tuberculosis in South Africa.
Tuberculosis: the Leading Cause of Death in South Africa
Tuberculosis is a major public health threat in South Africa, causing more than 89,000 deaths annually. Even so, the government is making strides toward eradicating TB in South Africa. Medical professionals in South Africa encourage early intensive action by screening all patients attending a primary medical provider. While premature screening is an important measure, it is also critical that the South African government encourages and helps individuals receive testing and remain on the treatment.
Treatment Availability and Effectiveness
Most individuals with TB are curable with a series of medicines. There are currently four recognized medicines that can treat TB: Isoniazid (INH), Rifampin (RMP), Pyrazinamide (PZA) and Ethambutol (EMB). After patients take the drugs for three to nine months and depending on the dosage, their bodies can successfully be rid of the bacteria. However, there is a handful of cases that are multi-drug resistant (MDR-TB). Around 1.8% of the new cases in South Africa are MDR.
For those with DR-TB, the efforts of medical professionals and the government are poor. Treatments become inaccessible for many South Africans. Many local clinics run out of medication for MDR patients, or the wait times to receive prescriptions are several hours long. As a result, patients must go to hospitals also with long wait times and crowded waiting rooms. For individuals who lack the time, money and resources to wait, there are few alternatives. This discourages those with an MDR-TB diagnosis from finishing their treatment plans. If a patient skips one dose of the six-month long medication regime, TB can resurface in the individual and come back much stronger. It is crucial that the government of South Africa, with help from other countries and organizations, provide better accessibility to testing, medicine and capable medical staff to its citizens.
Other Obstacles to Overcome
Much of the spread of TB is the result of unknowingly transmitting the disease or total neglect to seek testing because of inaccessibility or social stigmas. The stigma surrounding a TB diagnosis is a real problem. In 2014, the South African Stigma Survey reported that teasing and mockery affect more than a third of individuals who have TB.
Poverty is also an important dimension. On average, treating a regular case of TB would cost 2,500 rand (about $144.05), which is a steep cost for families in a country with a poverty rate of nearly 50%. To reduce TB deaths in South Africa by 90% would cost the government five billion rand per year, or more than $288 million. However, with help from other countries and organizations, eradicating tuberculosis is possible.
HIV, COVID-19 and TB
HIV comorbidity with tuberculosis has been a fatal combination for decades. More than 6 million South Africans live with HIV, yet only one million were screened for TB in 2013. In 2014, only 34,000 of the millions of people eligible for testing received a test.
Now, according to studies from June 2020, researchers believe citizens with active TB are 2.58 times more likely to die after contracting the coronavirus. Still, TB and HIV pale in comparison to other major risk factors for COVID-19 like diabetes or old age.
The skills medical professionals have gained from treating patients with HIV and TB will hopefully help in handling the novel virus. Being familiar with protective gear, tracking diseases and reducing the spread of illness are all important ways in which TB has prepared South Africa for the pandemic.
Organizations in the Fight against Tuberculosis
The South African government could take several actions to mitigate cases of tuberculosis in South Africa. One potential preventative action is active case finding, where health professionals search communities for individuals with TB. Another action is contact tracing, the method of finding patients who have TB and testing those with whom they have been in contact. Many NGOs and campaigns are stepping up to help the government fight TB.
In 2015, the World Health Organization (WHO) adopted a new plan to tackle the epidemic of tuberculosis in South Africa entitled the End TB Strategy. In collaboration with the National TB Programme, the WHO encourages South Africa to research, use new innovative medicines and tools, collaborate across all sectors of government and properly assess the threat of TB in influenced areas. In addition, The TB Alliance helps to end the spread of tuberculosis by funding clinical drug trials for MDR-TB in South Africa.
When considering what the "ideal clinic" is, only 10% of the clinics in South Africa make the cut. These clinics have ample supplies, educated staff and fair policies. It is critical that the South African government receives enough funding to help more clinics reach this status and stay on track to significantly diminish TB by 2035.
– Danielle Kuzel
Photo: Flickr
https://borgenproject.org/wp-content/uploads/logo.jpg
0
0
Lynsey Alexander
https://borgenproject.org/wp-content/uploads/logo.jpg
Lynsey Alexander
2020-08-12 01:30:25
2020-08-14 13:09:46
What to Know about Tuberculosis in South Africa