7 Facts About Women's Health for Syrian Refugees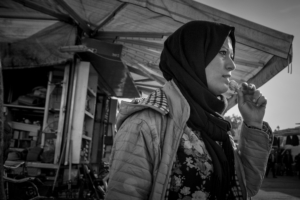 Syrian refugees face a variety of hardships in their daily lives, especially those with families. Syrian refugee women often have trouble finding the care that they need for themselves and their children. This is often due to the fear of being sent back to Syria. However, many countries are making changes in order to help these women by creating policies specifically for refugees. Below are seven facts about women's health for Syrian refugees.
Top 7 Facts About Women's Health for Syrian Refugees
Around 75 percent of Syrian refugees are women and children. The stresses of living life as a refugee bring on many of the conditions that require medical care in this group. The most common medical conditions Syrian refugee women report include gynecologic problems, "micronutrient deficiencies, sexually transmitted diseases and mental health" disorders.
Many countries hosting a large population of Syrian refugees are making health needs a priority, especially for women. Iraq, Jordan, Lebanon and Turkey host a total of 5 million Syrians. This makes up to almost 95 percent of the registered Syrian refugees in the world. Studying the needs of refugees in each country can give organizations an idea of what aid is needed most and where. In studying the health needs of refugees, women's health is the second-highest priority behind mental health.
Many international organizations have begun to focus on getting Syrian refugee women better access to healthcare as well as health education. Hilfswerk International is an organization in Austria that is doing this. Hilfswerk focuses on bringing medical services and healthcare education to a specific city in Lebanon. These services include classes, an increase in the capacity of ambulances, pregnancy and delivery services, nutrition and mental health support. Hilfswerk hopes this initiative will enhance the health of many Syrian refugee women and their families.
Non-governmental organizations have comprised enough data to provide relative care to Syrian refugee women in countries like Lebanon and Jordan. However, this is not the case for Turkey. Turkey has strict rules that do not allow organizations or journalists to report on the refugee camps. Consequently, there is not enough data on what Syrian refugee women need with medical care.
Due to Jordan having a history of an open border with Syria, the country is relatively well off when caring for its refugee population. The government of Jordan has policies for reproductive health services and provides free primary healthcare as well as immunizations for children. All women in Jordan have access to maternal care, postnatal care and trained professionals present during deliveries.
In 2012, U.N. Women created a cash-for-work program for refugee women called Oasis at the most populated refugee camp in Jordan. Oasis trains refugee women to do jobs such as tailoring and hairstyling in order to provide to their families. U.N. Women also teaches women how to secure a work permit. Furthermore, it has hosted job fairs for jobs outside of Oasis. The program gives refugee women skills and a way to provide for their families. In addition, Oasis helps refugee women to create a safe community and supports mental well-being.
UNICEF has created an initiative called "Dining for Women." Dining for Women includes a $100,000 grant that provides Syrian refugee women with safe jobs and addresses the need for an increase in maternal care in Jordan. UNICEF will provide kits to women and their babies that include clothing, diapers, blankets and hygiene products. They also provide monthly payments and prenatal/postnatal counseling.
These seven facts about women's health for Syrian refugees show that there is important work to be done. Thankfully, there are organizations working on addressing the needs of refugees, especially women.
– Alyson Kaufman
Photo: Flickr
https://borgenproject.org/wp-content/uploads/logo.jpg
0
0
Lynsey Alexander
https://borgenproject.org/wp-content/uploads/logo.jpg
Lynsey Alexander
2020-04-29 07:30:05
2020-04-24 21:23:41
7 Facts About Women's Health for Syrian Refugees