Top 10 Facts About Living Conditions in Vanuatu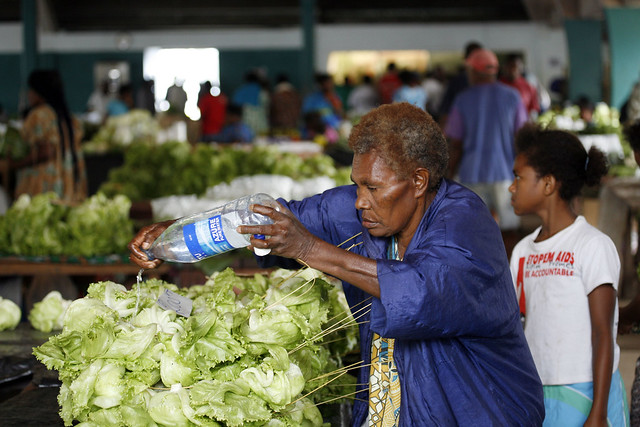 Vanuatu is a small nation located in Oceania, a region near the South Pacific Ocean. It is an archipelago nation made up of approximately 80 islands and is best known for its touristy capital, Port Vila. Much like many developing nations, issues are living conditions are not black and white. Instead, they are rife with complexity and nuance. Here are the top 10 facts about living conditions in Vanuatu.
Top 10 Facts About Living Conditions in Vanuatu
First on the list of top 10 facts about living conditions in Vanuatu is that it is comprised of more than 80 islands, many being volcanic islands, covering more than 1,300 kilometers.  Vanuatu's population is estimated to be 299,882 people. Most of the islands are not close in proximity, and dangerous waters and unpredictable weather make travel between the islands difficult. This creates problems with securing access to vital places, such as hospitals, especially for people who do not live in Port Vila. Vanuatu's vast geography also hinders government delivery services because access to the smaller islands is limited. Remote villages are the primary standard of living as citizens have discovered the best habitable locations and resources in this volcanic nation.
Homes on the islands of Vanuatu are primarily made of branches, grass and leaves woven together to provide good protection from frequent heavy rains, but they can be unstable in more severe weather conditions.  Certain natural disasters, such as tornadoes, can cause these homes to be stripped away completely. This especially became clear after Cyclone Pam hit the Vanuatu islands in 2015. 90 percent of Vanuatu's buildings were destroyed, including many homes.  Many people were left homeless after this natural disaster hit. Many of the islands are still in the process of rebuilding after the effects of Cyclone Pam.
The economy is agriculture-based.  Therefore, most citizens of Vanuatu earn their living through means such as small scale farming. Agriculture is Vanuatu's biggest industry, and 75 percent of its population depends on it for a living.  The domestic sales of agricultural products are not as strong as exportation sales. When Cyclone Pam hit the region in 2015, approximately 64.1 percent of Vanuatu's GDP was heavily impacted since most of its crops were damaged or destroyed from the cyclone.
The beef industry is one of the most popular and profitable industries in Vanuatu.   In fact, Vanuatu is the only Pacific country capable of exporting beef. The GDP percentage of animals is only six percent.  While beef is not the main meat consumption product in Vanuatu; pork is, it is the most well-known and lucrative agricultural item exported from the small country.
Since rainwater and freshwater sources are the basis of survival on these islands, the nation makes maintaining reliable and clean water a priority. However, clean water is not always easy to access. For example, Tanna is one of the most inhabited islands of Vanuatu, but it has trouble getting and sustaining clean water. Recently, a pilot project was developed that converts sunlight, air and rainwater into freshwater that is drinkable. ADB and Zero Mass Water created and implemented the solution by installing 20 solar panels with safe drinking-water technology.  Each solar panel provides three to five liters for a total of approximately 100 liters of clean water each day. Vanuatu citizens with no direct access to a clean water supply system are being aided by the implementation of this project.
In March 2015, Cyclone Pam hit Vanuatu hard. Eleven people were killed, and the cyclone caused major damage to homes and facilities such as hospitals, schools, etc. The damage caused by this cyclone showed Vanuatu's fragility when it comes to natural disasters. Multiple aid agencies, especially from New Zealand and Australia, were quick to donate money to Vanuatu in order to help them recover from the destruction. Since then, Vanuatu has continued to receive disaster aid funds.
Australia is a major economic partner of Vanuatu and has recently donated around $66.2 million for developmental assistance. With Australia as it's biggest financial partner, Vanuatu has become more financially stable. Australia also provides plenty of tourism (which is one of Vanuatu's biggest markets). In addition, in 2016, Australia committed to a support program to help the residents of Vanuatu handle issues associated with climate change. Australia pledged 300 million dollars over four years to the Pacific region to respond to and prepare for natural disasters and climate change.
The Ministry of Climate Change and Natural Disaster has recently launched an initiative that aims to give Vanuatu 100 percent renewable energy by 2030. This plan is known as the Nationally Determined Contribution. Vanuatu is hoping that this initiative will be the first step in mitigating climate change within its own land.
Education faces limitations in Vanuatu because schooling is not mandatory.  Only 60 percent of children graduate to secondary school. School is taught in either English or French. The literacy rate is only 64 percent, but most of the literate citizens are under age 35. In remote island locales, schools can be temporary structures built from wood and leaves and are affected by storms and weather conditions. Since education has not experienced major improvements, organizations such as the Vanuatu Education Support Program was created in 2012 to better the education system. It aims to provide support for the Ministry of Education and Training's corporate plan and the Vanuatu Education Sector Strategy. One of the solutions includes "improving literacy and numeracy from kindergarten to year 3."
The health care system in the Vanuatu islands suffers from a lack of facilities and qualified staff.  There are five public hospitals and one private hospital for the 80 plus islands. Two are on the modernized islands of Port Vila and Luganville. The doctor to patient ratio is 8/10,000. If someone is in dire condition, they often are flown to other countries such as Australia or New Zealand which can make an emergency situation more complicated and dangerous.  All pharmaceuticals are imported from other countries.
This concludes the top 10 facts about living conditions in Vanuatu. This archipelagic nation is very independent and allows its citizens to choose how they want to live, but, due to the structure of a nation of small islands, this way of life comes with setbacks.  The citizens of Vanuatu have seen some small improvements in their way of life, and with the positive aspects of this country, improvements can continue with the right steps.
– Haley Saffren
Photo: Flickr
https://borgenproject.org/wp-content/uploads/logo.jpg
0
0
Kim Thelwell
https://borgenproject.org/wp-content/uploads/logo.jpg
Kim Thelwell
2019-07-23 09:26:28
2019-12-18 14:07:31
Top 10 Facts About Living Conditions in Vanuatu