Top 10 Facts About Living Conditions in Myanmar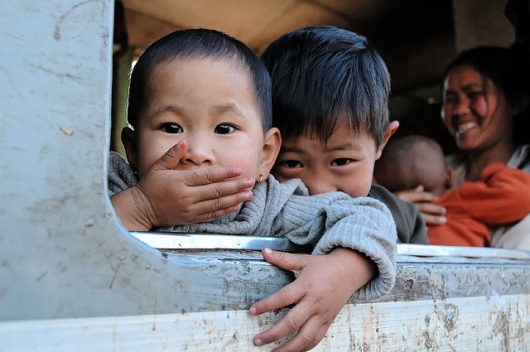 Myanmar is currently in the middle of a challenging transition to democracy amid ongoing human rights violations. With 32 percent of the population living below the poverty line, Myanmar is considered one of the most underdeveloped countries in Southeast Asia. Keep reading to learn the top 10 facts about living conditions in Myanmar.
Top 10 Facts About Living Conditions in Myanmar
Energy. As of 2017, over 25 percent of all households in Myanmar use solar energy to power their homes. From 2015 to 2017 the number of households with electricity access — solar and otherwise — increased by 1.1 million, which accounts for about 2 percent of the population. While this is certainly a step in the right direction, to this day, more than 60 percent of households in villages are still not connected to the public grid.
Water. Most areas of Myanmar have abundant rainfall, but some residents still need to transport water from the source to where they live, increasing the risk of contamination. In the Rakhine state, the floods from the 2015 cyclone have damaged access to clean water for 78 percent of villages. However, efforts by PLAN International to clean ponds and build rainwater catchment systems are underway to provide relief.
Education. Literacy rates in Myanmar are now promisingly high at 80 to 90 percent depending on the state. The gender gaps in literacy have also closed and high school enrollment rates have doubled over the last decade. In the same time period, middle school enrollment rates have also risen 20 percent.
Employment. The number of people working in Myanmar has been on the rise, as well as the percentage of households earning income from non-agricultural work. In particular, the number of women employed in Myanmar has increased by over 5 percent in the last decade.
Housing. Housing materials vary greatly due to accessibility to resources, geographic and socioeconomic reasons. According to the World Bank, "eight in 10 households had a quality roof in 2017, compared to four in ten in 2005." Newly found accessibility to quality roofing materials like corrugated iron has lead to this increase.
Freedom of Expression. When Myanmar's newly elected government, the National League for Democracy (NLD), took office in 2016 hopes were high for long-awaited law reform. However, under the NLD freedom of expression is still being regularly repressed and restricted with large numbers of peaceful activists, critics and journalists being prosecuted.
Technology. Smartphones have seen the most rapid growth of any consumer good in the past decade and are the most commonly used technology in Myanmar. The majority of households in Myanmar do not own or use a computer, with 10.9 percent being by far the highest ownership rate (in the city of Yangon).
Sanitation. When it comes to sanitation there are again large differences between rural and city areas when it comes to accessibility. For example, only half of all homes in Rakhine have a toilet whereas, in the rest of the country, 94 percent of people have a toilet in their home. PLAN International helps by providing basic sanitation needs and teaching the importance of things like washing hands to stop the spread of diseases.
Refugees. Since 2017, mass killings of Rohingya Muslims in Rakhine have forced over 900,000 Rohingya to flee human rights violations. However, these refugees are now trapped in refugee camps in Bangladesh facing monsoons and flooding seasonally. Out of all Rohingya refugees, 55 percent are children. Due to intensely cramped living conditions, diseases spread rapidly and sanitation facilities are lacking. Sexual violence also remains to be a pressing issue in the camps, in addition to psychosocial suffering. U.N. agencies and humanitarian organizations are providing assistance with food, water and shelter. Additionally, organizations provide psychosocial aid, health and sanitation services when possible.
Child Protection. Due to economic problems and violent government instability, there are currently over 460,000 children in need of humanitarian assistance. Organizations like UNICEF and Save the Children are working to provide psychosocial support as well as other nutrition, and sanitation based support to thousands of children. UNICEF's WASH team is working to provide clean water, access to toilets as well as promoting the importance of handwashing in order to help with basic health and sanitation needs. Access to these three aspects (clean water, toilets and hygiene services) all together help support one another to alleviate the risk of disease in struggling areas.
The current situation in Myanmar is very complicated and clearly presents some challenges to mend the gaps between living conditions in rural versus city areas.
– Amy Dickens
Photo: Flickr
https://borgenproject.org/wp-content/uploads/logo.jpg
0
0
Kim Thelwell
https://borgenproject.org/wp-content/uploads/logo.jpg
Kim Thelwell
2019-03-16 01:30:43
2019-11-21 13:03:52
Top 10 Facts About Living Conditions in Myanmar