The Good News About the Kenyan Economy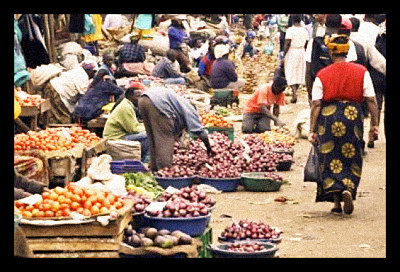 Kenya, one of the world's leading developing countries in East Africa, is on its way to becoming a more stable economy. The country experienced an economic growth of 4.2% in 2012 and is expected to grow by 4.5% in 2013 and as much as 5.2% in 2014.
However, Kenya is not growing as rapidly as expected because, while agriculture is the staple of the Kenyan economy, the demand in Europe for Kenyan horticultural exports was lower than projected. While overall, the Kenyan economy is growing, there is still a very wide range of economic activity going on in Kenya.
In an interview for The Borgen Project, Andre Sanchez-Montoya, a student at  American University, talks about his five months studying and living in Nairobi. He draws on his experiences to come to conclusions about the work ethic of Kenyans and what is most important to Kenyan socioeconomic culture.
"Kenya's visible economic activity ranges from informal economic actors like street vendors an open air markets to some of the nicest and largest malls I've ever seen," Sanchez-Montoya said. "In urban development areas like the neighborhood on Kangame, there are dozens of [stands] selling fresh vegetables from the countryside and mangos from the coast, along with almost anything else you could want."
The makeshift markets that Sanchez-Montoya talks about drive the domestic economy. While local economic support is seen as very positive in America because it drives funds away from big corporations and encourage small businesses to grow, in Kenya, it reflects something else.
"The emergence and longevity of the open air markets are a direct result of the uneven economic development in the country," he suggests. "These markets exist to meet the needs of the people who live in neighborhoods such as Kangame, because whatever can be found in the 'slums' can be found in the city centre, but for a higher price."
Despite the work that still needs to be done in Kenya, the recent economic growth in a positive sign not only for international trading but for Kenyans on a more individualized level. Kenyans are excited about the opportunity to make things more financially stable in their country.
Reflects Sanchez Montoya, "The 2013 elections made Kenyans want to engage in talks about politicians, the domestic and international economy, and what the future of Kenya looked like to them. Kenyans are definitely aware of where their country is on the development spectrum, but the conversations I had with many of my friends indicated that they know change comes slowly and they are excited to be an active citizen in the cultivation of their country."
Kenya's high rate of economic success is also in part due to funding by the USAID. It is one of the top ten recipients of USAID sypport, having received just over $296 billion for all six of USAID's incentives: democracy and governance, economic development, education and social services, environment, health, and peace and security. However, there have only been tangible results in two of the six incentives.
Regardless of the politics, Sanchez-Montoya finished the interview with a positive reflection on the cultural difference between Kenyans and Americans:
"There is very much a divide between what Kenyans consider 'success' and 'joy.' Americans tend to think that those things are intertwined, that success and wealth bring happiness. But Kenyans, whatever their situation is, find joy in friends, family, food, and faith."
– Lindsey Rubinstein
Sources: All Africa, USAID, USODA, UN, AfDB
Photo: My Daily News,
https://borgenproject.org/wp-content/uploads/logo.jpg
0
0
Borgen Project
https://borgenproject.org/wp-content/uploads/logo.jpg
Borgen Project
2013-08-02 04:09:57
2017-11-30 10:45:20
The Good News About the Kenyan Economy