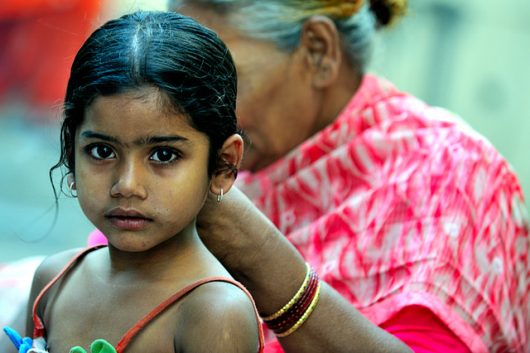 Also known as Bombay, Mumbai is one of the largest cities in India. Home to about 13 million people, it is one of the most populated metropolitan areas in the world. Mumbai is known for having some of the biggest slums in Asia. Here are 10 insightful facts about Mumbai.
Ten Facts About Mumbai
Areas that aren't recognized by the government are called non-notified slums. These areas lack satisfactory sanitation, clean water, adequate housing and secure tenure.
The houses in the slums of Mumbai are small shanties the size of about 269 square meters. A shanty is typically composed of one room with a small bathing area. Families are forced to share the sleeping area, which is normally composed of one bed and a mat rolled out on the floor at night. There is no kitchen, only a two-burner gas stove. Many families have no choice but to live in these overcrowded and under-resourced conditions.
The houses do not have indoor toilets. Therefore, people living in shanties have to use communal bathrooms. The bathrooms are unhygienic and do not have proper sewerage to dispose of the waste.
Residents are exposed to contaminated waters as a result of insufficient sewage systems. This is one of the main causes of health problems in Mumbai. People who live in non-notified areas do not have access to clean water. Many people are forced to illegally tap into city water pipes. This contaminates the city's clean water.
Dharavi is the largest slum in Mumbai, with about one million people residing there. It is the home of many microindustries that include tanning, leatherworking, pottery and plastic recycling. The slums of Dharavi are quite different from what is known as a typical squalid place. Instead, it is a "complex ecological and economic system." The residents aren't people who live below the poverty line. On the contrary, they are middle-class, educated folks who have been deprived of decent housing.
Mumbai is a major center for education. The literacy rate is at 89 percent. Even the slums of Mumbai are India's most literate. However, because Mumbai is so densely populated, school admission can be a challenging process. In fact, parents are advised to start applying six months in advance.
The enrollment rate has increased by 20 percent since 2010.
However, despite the increase, the number of dropouts in Mumbai has also drastically increased. Specifically, in secondary schools, as the dropout rate is 33.4 percent.
Boys drop out from school more than girls do. In 2013, 39 percent of boys dropped out before completing elementary school. Thirty-three percent of girls dropped out that same year.
The unemployment rate is higher in Mumbai than most places in India at 5.5 percent. However, it decreased from 5.7 percent in 2016.
These ten facts about Mumbai give an insight of the living situation. Although Mumbai has a lot of problems, there are many organizations addressing the situation. Organizations like the Fight Hunger Foundation and AMMA are helping to alleviate hunger and poverty in India. These ten facts about Mumbai also show the education side; it's mostly positive with a literacy rate of 89 percent and a rising employment rate.
– Solansh Moya
Photo: Flickr
https://borgenproject.org/wp-content/uploads/logo.jpg
0
0
Borgen Project
https://borgenproject.org/wp-content/uploads/logo.jpg
Borgen Project
2017-05-03 01:30:07
2020-05-03 14:36:30
Ten Facts About Mumbai