Take 4Liter Challenge, Live on 4 Liters of Water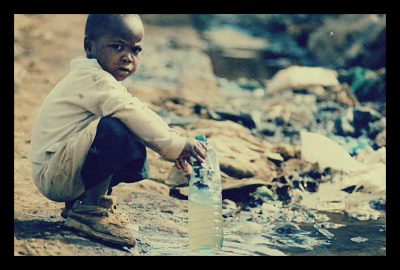 4Liter Challenge is a movement that asks Americans to try to live on only the essential amount of clean water. The idea is to help Americans understand the problem of lack of clean water through experience.
There is an online sign up for a system where use of water can be documented and shared via social media. Using social media helps the organization to spread awareness for clean water globally. During the challenge, participants must try to live on only 4 liters (about one gallon) of water a day for up to five days. The challenge aims to help Americans consciously think about how they use water.
An estimated 783 million people do not have access to sanitary drinking water. The UN reports "it is not yet possible to measure water quality globally, dimensions of safety, reliability and sustainability," so this figure is probably an underestimate.
4 liters is the absolute essential amount of water required to survive, but 50 is generally recommended to maintain a healthy life. Moreover, 80% of disease derives from lack of sanitized drinking water. According to PR Web, "4,500 children die every day from water borne diseases."
The average American uses around 500 liters of water a day. Sustainability is not just a third world problem.  Increasingly, preservation of clean water is becoming a global environmental issue worldwide. Additionally, Problems accessing clean water are often exaggerated by political instability or natural disasters. Global unity is needed to solve these challenges in order to provide clean water.
In 2010 the UN recognized access to sanitation and water as a human right. This right states that the sufficient amount of water is 50 to 100 liters, water must be affordable and accessible, and its collection time should be under 30 minutes. The 4Liter challenge was started by DIGDEEP water. In line with the UN goals, DIGDEEP's focus is human rights and building sustainable water sources worldwide. A core value of the organization is "Water is precious, and so is human dignity."
All funds raised by the 4Liter campaign will go to sustainable water projects in South Sudan, Cameroon, and New Mexico. These projects aim to promote sustainability using adjusted, locally implemented programs that empower communities.
– Nicole Yancy
Sources: DIGDEEP Water, PR Web, Aleteia, UN
Photo: LXX Magazine
https://borgenproject.org/wp-content/uploads/logo.jpg
0
0
Borgen Project
https://borgenproject.org/wp-content/uploads/logo.jpg
Borgen Project
2013-10-12 04:32:40
2020-06-25 08:13:57
Take 4Liter Challenge, Live on 4 Liters of Water