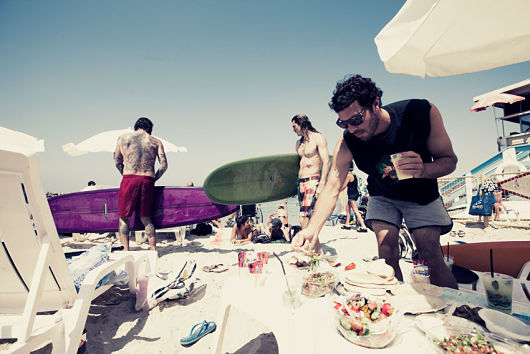 Using local talent and resources, Explore Corps is able to change the future of developing communities by working with youth to grow up to be leaders, conservationists and to practice sustainability. Explore Corps helps youth gain knowledge, mature and develop on their terms while working on projects that are community driven, culturally sensitive and environmentally friendly.
Explore Corps' mission is to explore different communities, educate locals and empower youth. The Explore Corps' team consists entirely of volunteers who are equipped to work with challenging communities and address the complexities of enacting youth projects. Volunteers come from a variety of backgrounds including outdoor education, recreational programming and youth development.
Explore Corps has worked on four major projects comprising of the Search Spark Stoke Tour, which took place in 2012, The Gaza Surf Club, Surfing 4 Peace, and Gaza Surf Relief. These projects focus on using local resources in Gaza, like surfing, to help children on the Gaza Strip affected by war.
The Gaza Surf Club was founded by Explore Corps director, Matthew Olsen, in 2008. The project serves as an educational opportunity for Palestinian surfers on the Gaza Strip. Members of the clubs work with local organizations to develop workshops and tailored educational programming to educate locals on how to properly utilize local resources, development training and international outreach. The team consists of 25 surfers who dedicate their time to teaching.
The Search Spark Stoke tour took place in the winter of 2012 after Concrete Wave Magazine creator, Michael Brooke, approached Explore Corps to help him initiate his project, Longboarding for Peace. Brooke worked to secure the funding and public relations side of the project, while Explore Corps was in charge of creating venues and workshops and assembling instructors for the tour.
Longboarding for Peace successfully created a new delivery system for peace programming on the Gaza Strip while permanently creating an after school longboarding program for students.
Another project started by Explore Corps is Surf 4 Peace. Surf 4 Peace works to break through cultural and political barriers between communities in the Middle East and bring everyone closer together. The project was started in 2007 by surfer, Arthur Rashkovan and ambassador, Dorian Paskowitz and is based in Tel Aviv, Israel.
Gaza Surf Relief was created to raise funds for Gaza's surf community. The project was started in the summer of 2007 by Seweryn Stalkoper, who is an associate for Hedge Fund Trading. He worked from his home in Santa Monica, California gathering donations and successfully raised enough money to buy 15 brand new surfboards, several used surfboards, board shorts, t-shirts, and rash guards among other items. Explore Corps currently has several new projects in the works that will continue to help the youth living on the Gaza Strip utilize surfing.
– Julia Hettiger
Sources: Explore Corps, BBC, The Goodwin Project
Photo: The Goodwin Project
https://borgenproject.org/wp-content/uploads/logo.jpg
0
0
Borgen Project
https://borgenproject.org/wp-content/uploads/logo.jpg
Borgen Project
2015-09-03 16:03:49
2020-07-01 10:49:55
Explore Corps Empowers Youth