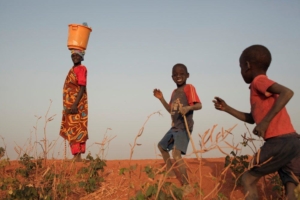 Technology increasingly offers more and more solutions to help reduce poverty across the globe. Considering South Sudan's unpredictable climate and scarce resources, new technologies in South Sudan can provide a gateway of opportunities and security to the locals. This can be through new farming methods and equipment, schooling, banking and monetary management.
The Problems in South Sudan
South Sudan's current climate is posing many challenges to its poverty-stricken population. The World Bank describes poverty as 'ubiquitous' across South Sudan, with it estimating that two-thirds of the population requires humanitarian assistance.
Estimates stated that floods are affecting up to 1 million people every year because the floods have forced many to evacuate their homes. This has had an impact on education with floods affecting 100 schools. As a result, more than 60,000 students have reduced access to education.
In the short term, people in South Sudan have had limited access to nutrition and health care. This has contributed to the fact that 60% of the population is facing malnutrition.
It is not just flooding that impacts South Sudan. Excessive drought, temperature changes and unpredictable rainfall have all damaged day-to-day life in South Sudan. Droughts have resulted in food insecurities leading to a loss of livestock and crops.
This is severely impacting the economy in South Sudan considering that 95% of the population work in sectors that rely on the climate. This includes agriculture, fishing and forestry resources.
In the 2020-2021 period the South Sudanese economy reduced by 5.4% due to lower exports of oil and agricultural output. This is having a large impact on the living conditions of individuals in South Sudan.
The Conflict in South Sudan
As a result of the unpredictable climate in South Sudan, many have had to migrate. In fact, up to 4 million people as of 2022 remain displaced due to climate-induced dangers – 1.6 million internally and 2.3 million in neighboring countries.
Migration has led to enhanced homelessness across South Sudan. This has reduced living standards and increased disease. A lack of infrastructure has led to more exposure to malnutrition, mosquitos and climate-induced diseases such as malaria and cholera.
Serious conflicts over resources in South Sudan between groups, especially in areas of extreme drought, has led to livestock raiding and exacerbated the displacement of people into concentrated areas making resource scarcity even more serious.
Furthermore, the large weaponry market that has spread throughout the territory to the failure of the South Sudanese government, fuelling the problem and resulting in wider political instability in South Sudan. Resource conflicts have increasingly become a method to gain political support and power.
UNHCR's Efforts
To solve the issues of conflict and lack of institutional and infrastructural support in South Sudan, the resource and climate problems require mitigation and resolution. Technology could be a solution, but South Sudan has limited new technologies presently.
First, and foremost, technology can make farming more efficient and sustainable. For example, the United Nations High Commissioner for Refugees (UNHCR) is trying to develop sustainable and resilient infrastructure such as dikes and drainage systems to try and appease the problems in South Sudan. Moreover, UNHCR has provided flood-tolerant seeds and training for locals. To help with droughts, it has introduced new irrigation systems and set up tree nurseries to regrow forests. In Maban, five tree nurseries underwent establishment in four refugee camps. These activities are introducing new skills and opportunities for the locals, that are more resistant and malleable to the changing climatic conditions. Other technologies include high-efficiency cooking stoves, reusing agricultural waste and using solar energy to extract water from boreholes.
How the US is Helping
Next, greater investment into education and human capital development is vital for presenting more opportunities for the locals to be able to use new tech. The U.S. has provided more than $117 million to South Sudan on top of humanitarian aid. This is helping the government to invest more money into their infrastructure, allowing more to access education.
The U.N. has also been providing increased support across Africa. It is important that this continues as, alone, South Sudan does not have the fiscal capacity to create a stable socioeconomic climate.
A further key area for South Sudan is taking full advantage of technology to provide education to rural areas that otherwise do not have access. This seems to have had little traction so far but could prove to be a very advantageous development.
Lastly, introducing these new technologies and skills in South Sudan will help to address the migration problem, reducing the levels of migration and allowing the population to become more dispersed again. This will hopefully help to reduce conflict in South Sudan as well.
Looking Ahead
Behind this shift to new technologies in South Sudan in the long run, support through charity and initiatives will help to smooth the transition. For example, to help with conflicts UNHCR has started several peace initiatives in Eastern Equatoria to reduce further conflict between herders and farmers, and to incentivize the use of new technology in pastoralists' original locations, rather than internally migrating.
As a result, it becomes clear that South Sudan can reduce conflict across the country if it introduces more sustainable technology to help with the unpredictable climate. This requires the support of other countries and the cooperation of the South Sudanese government if this is to successfully reduce poverty.
– Reuben Cochrane
Photo: Flickr
https://borgenproject.org/wp-content/uploads/logo.jpg
0
0
Naida Jahic
https://borgenproject.org/wp-content/uploads/logo.jpg
Naida Jahic
2022-10-05 07:30:18
2022-10-04 14:32:42
New technologies in South Sudan